Chukku Kappi (dry Ginger Coffee)
Ginger coffee is a south Indian specialty coffee. It is not only tasty but also healthy too.
It is used as a good remedy for cough, sore throat, fever, indigestion etc.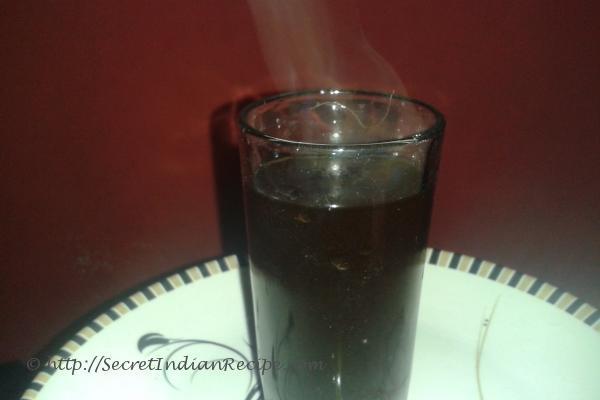 Ingredients:
Dry ginger powder-1 teaspoon
Coffee powder-1 teaspoon
Black pepper corn-1/2 teaspoon
Tulsi leaves (Holy basil) -5 or 6
Panamchakkara (karupetti) or Jaggery-1 tablespoon
Water-2 cups
Guava leaves-3or4
Cumin seeds-1/2 teaspoon
Cardamon-2 crushed
Directions:
Switch on the stove and place a sauce pan on the stove.
Heat water and jaggery pieces together in the sauce pan.
When it starts melting, add the powdered dry ginger, black pepper (crushed), cardamom (crushed) and cumin seeds.
When boiling, add coffee powder and let it continue to boil for a minute.
At this stage, add tulsi leaves and guava leaves and turn off the flame and close the pan with lid.
Keep it for 5 minutes and strain the coffee and pour it to a coffee mug.
Serve hot.
Footnotes:
This is the best health drink for all the infections during the winter and rainy season.