Churma Laddu
Churma is most popular in Rajasthan & Hariyana. It is coarsely ground wheat crushed and cooked with ghee and sugar. My mother used to make churma in many occasions. I have presented churma in laddu form. #festiveRecipe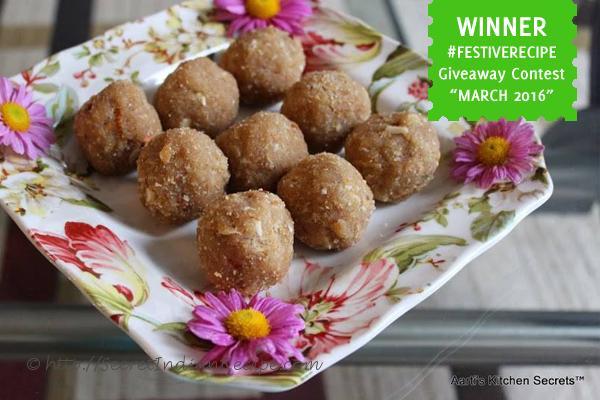 Ingredients:
Wheat Flour – 2 Cups
Semolina – 2 tbsp
Grated Dry Coconut – ¼ Cup (Roast it for about 2 mins)
Powdered Sugar – ¾ Cup (You can add/less as per your taste)
Sliced Dry Fruits – ¼ Cup (I have added almonds, cashews, pistachios and raisins)
Warm Milk – Around ¾ Cup (For making dough)
Ghee
Directions:
Mix wheat flour , semolina and 2 tbsp ghee. Add milk and make a stiff dough.
Make small balls and press each in your fist. Deep fry them on over low heat until they are golden brown. Allow them to cool for 3-4 mins.
Grind them into coarse mixture.
Transfer the mixture into a mixing bowl. Add dry coconut, sliced dry fuits, 2-3 tbsp ghee and sugar. Mix well
Shape the mixture into small balls like laddu.