Coconut Curry Chicken
#DiwaliRegionalRecipe I am a chef and home cook, and love to write my own cook books. All the recipes are made up by myself.. I love Indian cuisine, and wanted to try a recipe for coconut curry chicken. A lot of thought, and love has went into this. It is a rich coconut curry sauce with sliced or diced chicken added over a bed of white rice. The sauce is smooth, creamy, and spicy that adds depth to the chicken, and rice.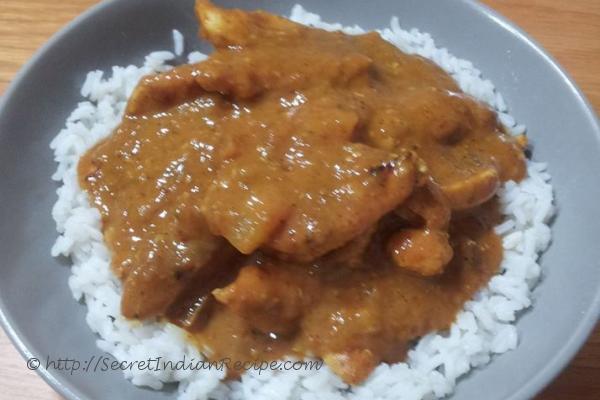 Ingredients:
Chicken breast – 2 skinless and boneless cut in 1 inch chunks or 2 inch thin strips
Oil = 2 tablespoons
Garlic =1 heaping teaspoon chopped fine or you can use bottled minced
Red Onion = 1/4 of one chopped in small pieces
Curry powder – 1 teaspoon
Indian Curry Paste = 4 tablespoons more if you like it
Coconut milk = 1 can
Corn starch = 2 heaping teaspoons
Lemon = lemon juice = 1 tablespoon
White rice = 2 cups cooked
Directions:
Heat oil and add the chicken in the oil with the curry powder and garlic. Cover and cook until chicken is almost done. You can add little water if you need to. Add the onions, and cook just until the onions are tender.
Now add the curry paste. Mix the corn starch into the coconut milk, and add then stir. Simmer until thick, and stir while it is simmering. This does not take long at all. Add the lemon juice, and mix.
Footnotes:
If you like red pepper add a half of one with no seeds, and chopped in small pieces when you add the onions.
Serve on fluffy white rice. This goes well with naan bread on the side.