Coconut Milk Flavoured Rice And Chicken Gravy
Coconut milk flavoured rice and chicken gravy is the best combination for lunch. It is a easy to prepare quick recipe. This is one of the favourite food to my family. You can try this and definitely u'll love it. Here we Go!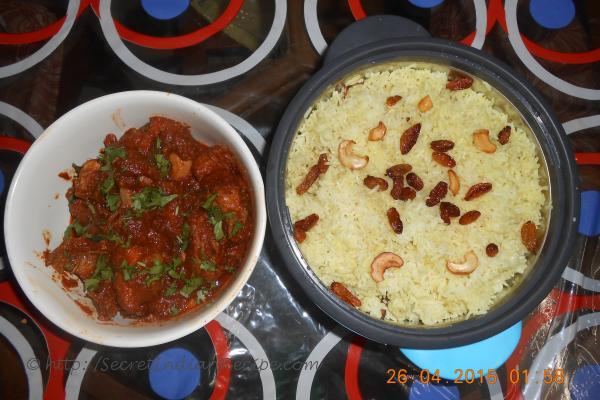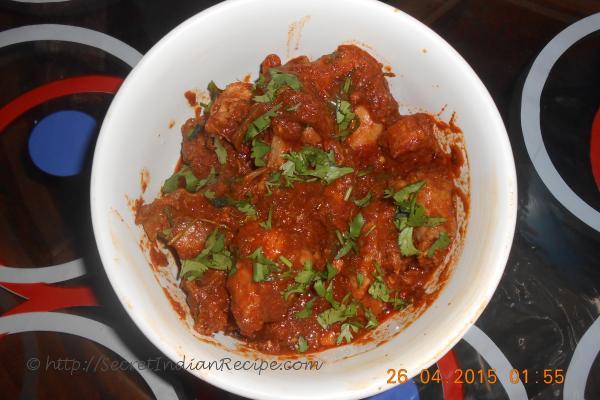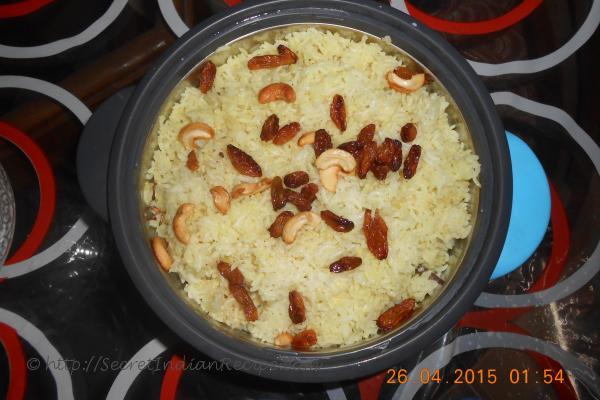 Ingredients:
Big size Coconut 1
Ponni Rice-500g
Ghee-50g
Cashew nut-25g
Raisins-15g
Cinnamon -5g
Cardamom-8 pieces
Cloves-8 pieces
Turmeric powder
Cleaned Chicken-500g
Onion-300g
Curd-50g
Vinegar-50ml
Soya sauce-30ml
Refined oil-200ml
Kashmir chilli powder- 3 spoon
Tomato-2
Capsicum-1
Ginger Garlic paste-2 spoon
Coriander leaves
Salt for taste
Directions:
First we will start with Coconut milk rice .
Soak rice for 15 minutes. Grind Coconut with water and take thick milk of 1 litre.
Heat the pressure cooker and pour half of the ghee. Add cardamom, Cloves and cinnamon to the ghee and fry.
Add the 1 litre coconut milk, Rice and ¼ teaspoon of turmeric powder and salt as required and close the cooker. Cook just for 1 whistle and then switch off the gas.
Take the cooked rice in a vessel and keep it aside. Now fry the cashew nut and the raisins in the remaining ghee and add to the rice and mix it well. Coconut milk rice is ready.
Second we will prepare the Chicken Gravy.
Take Chicken, Curd, Vinegar, Kashmir chilli powder and salt in a bowl and mix them well.
Cut onion into long slices. Cut Tomato and Capsicum separately into small pieces.
Take a kadai and add oil to it. After the oil heats up, put onion and fry until it turns golden brown. Add Ginger garlic paste to the onion and fry again.
Add the prepared chicken mix to this. Mix it well and then add half glass water. Close with a lid and cook it on low heat. When it is half cooked add tomato and continue to cook.
After 5 mintues Add capsicum, add soya sauce to it. Cover again and cook for another 10 mintues
After the chicken is cooked and gravy becomes thick transfer it to another bowl and garnish with coriander leaves.
Chicken Gravy is ready.
Footnotes:
You can use normal chilli powder if u don't have kashmir chilli powder.