Coorgi Koli Curry (coorgi Style Chicken Curry)
I love Coorgi cuisine. It is so similar to the Kerala style of cooking I am accustomed to. But the most basic difference is the use of kachampuli that the coorgis add to meat preparations. In Kerala we add tamarind to fish curries. In meats we add vinegar but kachampuli is a strong concentrate of tamarind. It is the most tart concentrate of tamarind I have ever had and so even a tsp is a lot. I overdid it so please add very little kachampuli to curries. If you cannot access this tamarind use the normal tamarind extract. But kachampuli has a special flavour that makes this curry special. Try this curry with strong hoppers also known as nool puttu or idiyappam or with rotis.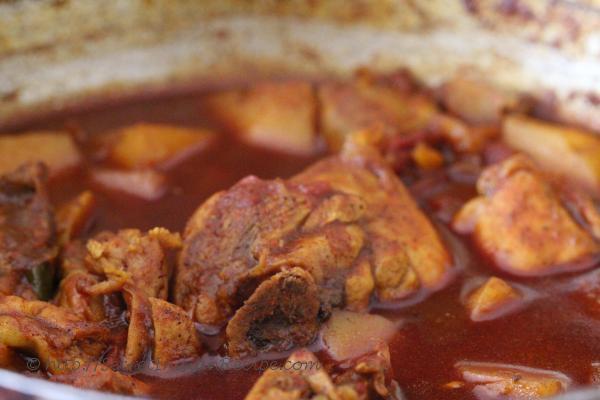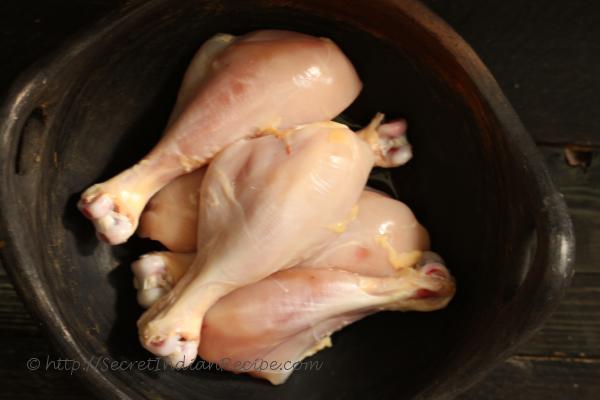 Ingredients:
Chicken- 1/2 kg
Onions- 4
Tomatoes- 4
Garlic-10 pods
Ginger- 1 inch long piece
Green Chilies-4
Cloves-2
Cinnamon stick- 1 inch long piece
Cardamoms- 2
Turmeric powder- 1/2 tsp
Coriander powder- 1 tbsp
Chili powder- 1 tsp
Coconut milk (thick)- 1 cup
Poppy seeds-
Salt- to taste
Kachampuli- 1/2 tsp
Oil- 2 tbsp
Coriander leaves- for garnish
Potatoes (optional)- 2
Directions:
Marinate the chicken with turmeric powder and salt and leave in the refrigerator overnight.
Before you start cooking grind the poppy seeds first. Now grind the ginger, garlic, chilies, onion , cinnamon, cloves and cardamom with the powdered poppy seeds into a fine paste.
Heat oil in a pan and sear the marinated chicken. Take the chicken out and set aside in a plate when the chicken is evenly done.
In the same pan, saute the onions till they are golden brown. Now add the ground paste and saute till their raw smell abates.
Add chili powder, coriander powder and a pinch of salt and saute for 2-3 minutes.
Add the chicken and cubed potatoes to the gravy followed by the coconut milk and cook for 2-5 minutes. Add the tomatoes now and cook till they wilt.
Now finally add the kachampuli, bring the curry to a boil and switch off the stove. Garnish with coriander leaves.
Serve with idiyappams, Coorgi akki rotis or rice.
Other Indian Recipes that you may Like !