Coorgi Koli Pulao (chicken Rice Pot Coorgi Style)
Coorgi chicken pulao is a special recipe from the Coorgi cuisine which belongs to a special section in Karnataka known as Kodavas or Coorgs. Coorg is close to Kerala border and hence their eating habits are a mix of Kerala and Karnataka cultures so is their language which shares words from Malayalam, Tamil and Kannada. This pulao has elements of the Karnataka style biriyani and the Kerala style biriyani at the same time. But it is called a pulao in Coorgi community.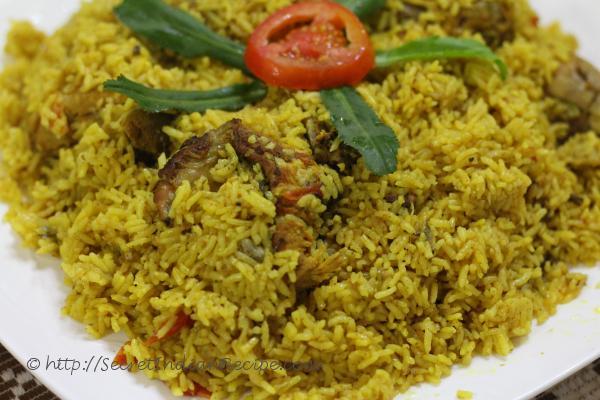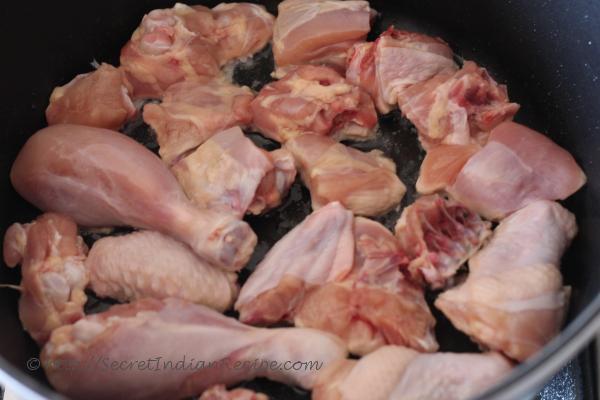 Ingredients:
Basmati rice- 6 cups
Chicken- 1 kg
Coriander seeds- 2 tbsp
Turmeric powder- 1/2 tsp
Chili powder- 1 tsp
Cinnamon- 1 stick
Cardamom- 4
Cloves- 4
Peppercorns-6
Cumin seeds- 1 tsp
Poppy seeds- 1 tsp
Onions- 1/2 kg
Ginger- garlic paste- 2 tbsp
Coriander leaves chopped- 1 cup
Mint leaves chopped- 1/2 cup
Green chilies- 4
Ghee- 1/4 cup
Directions:
Wash and soak the basmati rice for 30 minutes. Heat ghee in a pan and saute the chicken to brown them a bit.
Take out the chicken when browned and fry the onions in the same pan. When the onions start to brown, take out half the onions for garnish and continue to saute the rest till they brown.
Now add the ginger-garlic paste, minced green chilies, chopped coriander and mint leaves to the remaining onions.
Add the browned chicken and saute the chicken with the masala. Add salt, lime juice and cook the chicken for 2- 3 minutes with the masala.
Now add the whole spices (coriander seeds, cumin seeds, cinnamon, pepper corns, poppy seeds and cloves) along with the turmeric, chilli powder and cook the chicken with this spices till done.
Boil 12 cups of water with salt and cardamoms to cook the basmati rice till it is half done. Strain the rice in a colander and pour some cold water to control the rice from over cooking.
In a bigger pan layer the rice and chicken curry with some fried onions in between. Cook the layered rice and chicken till the rice is well cooked.
You can do this by the dum method too, for this place the layered pulao utensil on top of a small tawa/girdle and seal the utensil lid cooking the pulao with some flatbread dough.
The dum method is a slow cooking method where, the utensil is sealed using a flour paste of dough to prevent steam from escaping the utensil. And the rice is cooked in the steam built within the utensil.
Cook the rice for 20 minutes over low flame on a girdle if following the dum method, because you won't be able to check the rice in between with the sealed lid.
If you are not following the dum method, cook the layered pulao till the rice is done. Serve with some chilled raita and pickle.
Other Indian Recipes that you may Like !