Coorgi Puthari Curry (stewed Red Kidney Beans With Dry Fish, Stringed Beans And Bitter Gourd)
This is a fabulous combination as a curry. The bitter flavoured gourd, salty fish, dry rajma beans and some green beans come together in a tangy, coconut flavoured gravy. It sounds so unreal a combination but I loved it the moment I saw this recipe at Coorg table. Having visited Coorg recently I was happy to have discovered some new recipes. Coorgi food is quite similar to the Kerala food. Even the fondness of kachampulli in Coorg and Kodampulli in Kerala (types of tamarind) is so similar and the infusion of dry fish and coconut in curries are all similarities that makes me love this cuisine even more. A Coorgi friend of mine told me she never made this curry and had only heard of it. So I felt proud having made it. I will make this often because my hubby approved this recipe despite it having bitter gourd. You should use dried sardines but I did not have them so I used dried shark.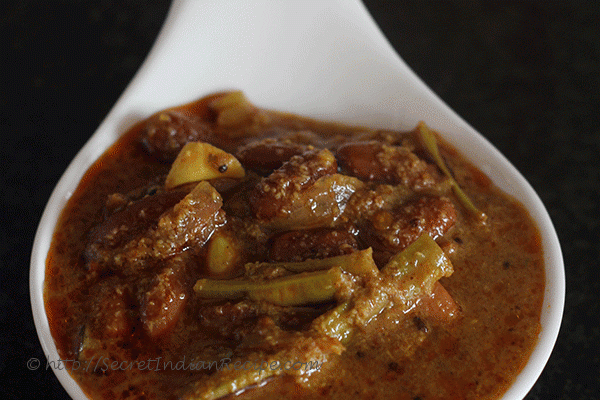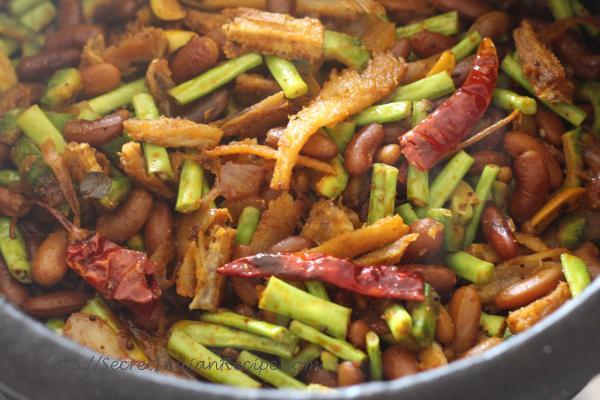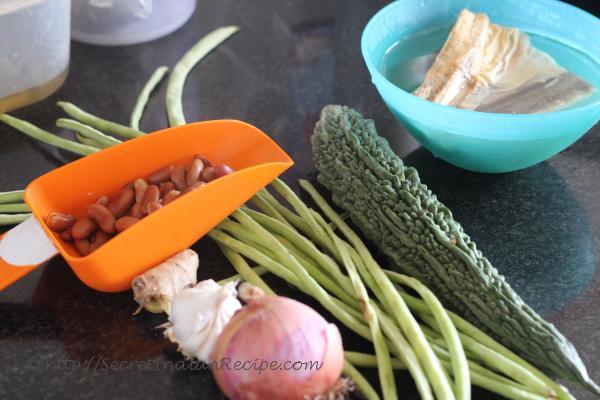 Ingredients:
Red kidney beans- 150 g
Bitter gourd- 1
Dried fish- 100 g
String beans or French beans- a handful
Kachampulli or Tamarind- 4 tbsp
Coriander powder- 1 tbsp
Chili powder- 1 and 1/2 tsp
Turmeric powder- 1 tsp
Garam masala- 1/4 tsp
Fenugreek powder- 1/4 tsp
Onion- 1
Garlic- 5 cloves
Ginger- 1 inch piece
Green chilies- 4
Curry leaves -5-6
Grated coconut- 1/2 cup
Cumin seeds- 1 tsp
Chopped coriander leaves- 1/2 cup
Mustard seeds- 1 tsp
Dry chilies- 4
Salt- to taste
Oil- 4 tsp
Directions:
Soak the red kidney beans overnight and boil it with some turmeric and salt. Soak the dry fish clean it and chop into small pieces.
Grind the coconut with garlic, green chilies, cumin seeds and coriander leaves.
String the beans and slice the bitter gourd. Marinate the bitter gourd with salt for 30 minutes before you start cooking.
Heat oil in a clay pot and add the mustard seeds first and once they sputter add the dry chilies and curry leaves.
Add the chopped ginger and onions to the oil after the dry chilies and curry leaves are roasted.
When the onions wilt, add the red kidney beans, bitter gourd and string beans. Now add all the spice powders and salt and cook the veggies for 5 minutes.
After 5 minutes, add the ground paste and 1/2 cup water. Bring the curry to boil and add the tamarind and dry fish.
Let the curry simmer for a while so that the flavours infuse thoroughly. Switch off the flame and let the curry settle.
Serve with rice and a stir fry.