Coriander Rice
Cooking plain rice everyday makes it very boring so in order to make something interesting and special I chose to innovate this new dish.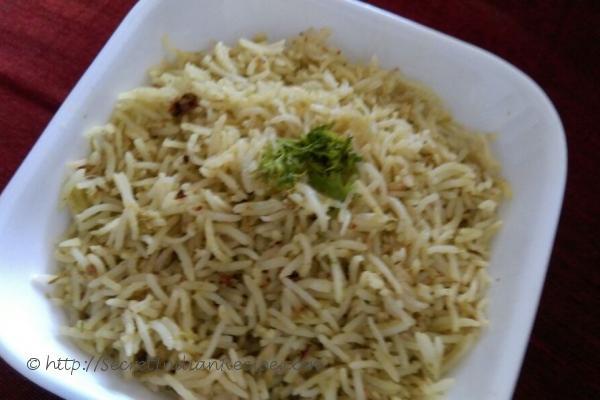 Ingredients:
FOR PASTE:-
chopped Onion- 1 medium sliced
Ginger- ½ piece
Garlic- 4 cloves
Green chilli- 1
Coriander Leaves- ½ cups
Tomato- 1 nos sliced
Grind all of the above ingredients into a fine paste
FOR TADKA
Cardamom- 2 nos
Cloves- 2 nos
Tejpata- 1nos
Kalimirchi- 8 nos
Cooked rice- 3 cups
Salt to taste
Sugar 1 tsp
Ghee- 3 tbsp
Directions:
Place a karai on fire with ghee. Add whole garam masala and tejpata. Then add onion, coriander paste fry to a medium fire. When aroma comes out from it, pour the rice, salt, and sugar. After that cover the kadai. In 3 min open the lid and stir it again. Sprinkle 1 tsp of ghee on top and garnish with coriander leaves and serve hot.