Corn & Potato Bread Rolls With Yummy Cheese Filling
These bread rolls were my childhood favourites. They are quick to make, the stuffing can be varied to suit the palate (else any good leftover dish in the fridge) and they taste heavenly with ketchup.
The variant here has boiled potatoes, corn and cheese-yet it can be modified to any combination of leftover food mashed with cheese-as necessity is often mom of innovative cooks!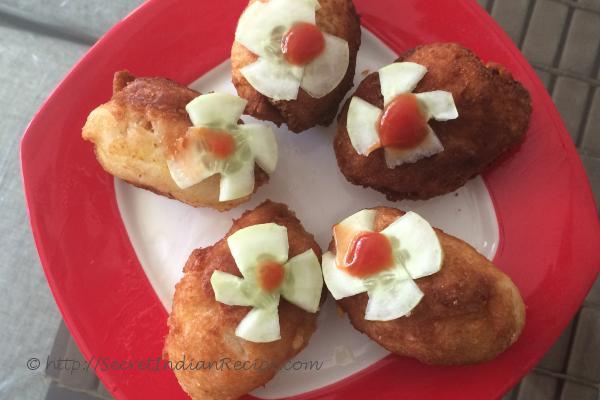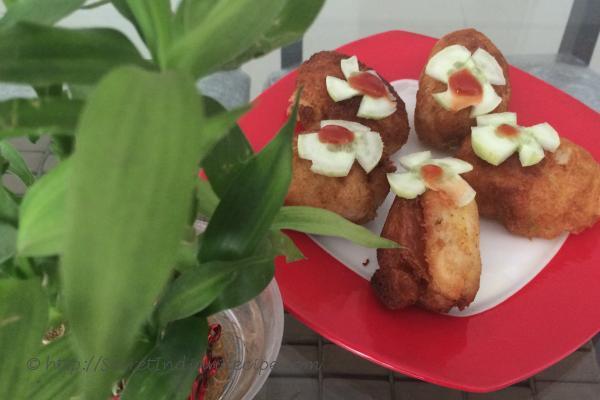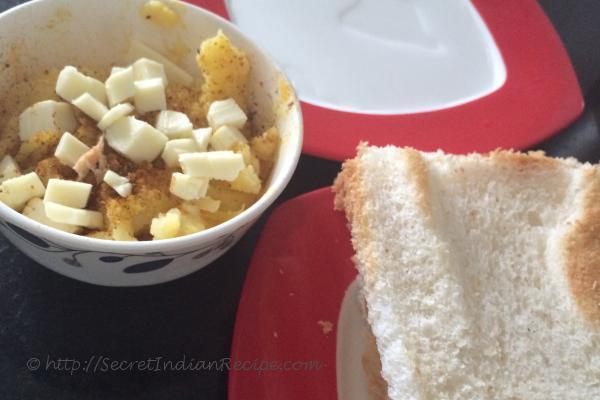 Ingredients:
4 slices of Bread
Half cup Cheese cubed to tiny bits
2 small Potatoes, boiled and peeled
Half cup Baby corn, boiled with salt
1/2 tsp Salt, Pepper powder & Garam masala powder
1 Green chilli cut to fine pieces
1 small Onion diced finely
Oil for frying
Directions:
Mash the boiled potatoes, baby corn, cheese, finely chopped chilli and onion together in a bowl. Add the salt and seasonings including garam masala powder, pepper powder.Divide the filling into four parts.
Take the slices of bread and trim the sides off. In a shallow vessel, preferably a separate plate, put water to the capacity as shown in the picture. Heat oil for deep frying at medium temperature in a pan.
Dip the bread in the water while going in the palm of the hand. The bread becomes soggy immediately hence care needs to be taken-else it breaks apart and is difficult to maneovre. Put one portion of the filling in the centre of the bread and roll over all corners of the bread over the filling.
Squeeze the bread roll to drain out the excess water.Repeat for the other remaining pieces of bread. Fry immediately in the preheated oil for 3-4 minutes till golden on all sides.
Serve with ketchup and green chilli sauce.
Footnotes:
The care needs to be taken while frying-ensure all excess water is drained out prior to frying and the roll is tightly set so that it doesn't open up while frying.
Don't worry if the breads become too soggy and break while making the rolls-just craft them together by hand ( soggy bread binds easily even if it broke off)