Cottage Cheese And Spinach Ravioli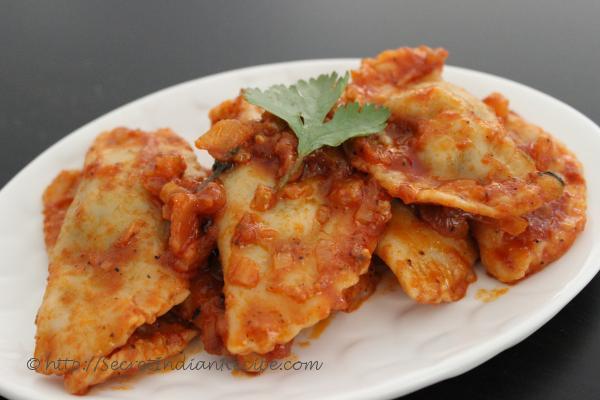 Ingredients:
All purpose flour – 1 ½ Cup
Wheat Flour – ½ Cup
Salt – to taste
Olive oil – ½ tsp, 1 tbsp, ½ tsp and 1 ½ tbsp.
Grated Ginger – ½ tsp
Pasta Sauce – 2 Cup
Spinach – 2 Cup chopped
Cottage Cheese (Paneer) – 1/3 Cup mashed
Onion – 2 Chopped
Black pepper powder – to taste
Thyme Leaves – Few
Directions:
Combine the all purpose flour, wheat flour, salt, ½ tsp olive oil and water together to make a semi stiff dough.
Cover and let it rest for 30-40 minutes.
Heat 1 tbsp oil in a pan. Add grated ginger and saute for ½ minute. Now add half chopped onions and saute till it becomes translucent.
Now add Spinach and cook it for 2-3 minutes. Once it is done add cottage cheese, salt, pepper, and thyme leaves. Mix well and saute it for 2-3 minutes more.
Knead the dough on flat surface and take half of it. Roll out the dough with the help of rolling pin into a thin sheet.
Use ravioli cutter and cut the rolled dough into rounds.
Use spoon to fill the ravioli. Brush a little water on the sides of ravioli. Now fold it and with the help of a fork by pressing its sides.
Do the same with the rest of the dough.
Boil water in a pan and add ½ tsp oil and ¼ tsp salt into it. Now add stuffed raviolis and cook it for 2-3 minutes.
Now Seive it and cool it down by adding cold water.
Heat 1 ½ tbsp. oil in a kadhai and add remaining chopped onions into it. Saute until they turn light brown.
Now add pasta sauce, salt, black pepper powder and cook for 2 minutes.
Now add boiled raviolis. Mix it and cook for another 2-3 minutes and serve hot.