Crab Curry
Crab recipes are delicacies. Eating crab is highly nutritious as it contains good amount of omega 3 fatty acid. However cleaning the crab and eating is a tiresome job. Here is a recipe which is the very basic way of cooking crab and we are also giving you instructions on how to clean the crab before cooking.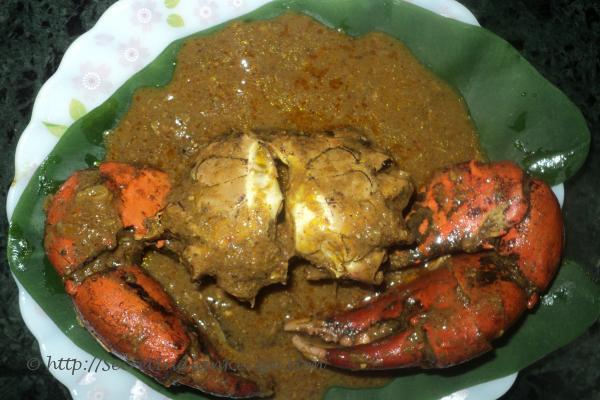 Ingredients:
Crab 2 whole crabs
Onion paste ½ cup
Ginger garlic paste 2 tablespoon
Cumin powder ½ tablespoon
Coriander powder ½ tablespoon
Red chilli powder ½ tablespoon
Salt 1 tablespoon
Mustard oil 2 tablespoon
Ghee 4 tablespoon
Directions:
Clean the crab and keep aside
Heat mustard oil and ghee together in a karahi and add the crab. Cook for 5 mintues till the crab become golden red. Take out the crab and keep aside.
In the remaining oil add onion paste and ginger garlic paste and sauté for a minute. Add cumin powder, coriander powder, turmeric and red chilli powder. Fry till the masala leaves the oil. Add 2 cups of water, salt and fried crabs. Mix well. Put a lid on and cook for about 30 mintues on low flame. Stir in between. Garnish with onion rings and serve hot with rice.
Footnotes:
Cleaning the crab – Take a whole crab and remove the hands by spatula. Then hold the body vertically and with the help of kitchen hammer break the outer shell of the body. Clean the remaining portions of legs attached to the body and wash thoroughly. Similarly wash the hands thoroughly and keep it aside for cooking.
Other Indian Recipes that you may Like !