Creamy Savoury Tart- Teatime Snack
#ChaiFingerFood
This is an all time favourite snack in our family. Its creamy, tasty, and just melts in the mouth. Everybody just loves it. It is served hot. It goes well as a starter too.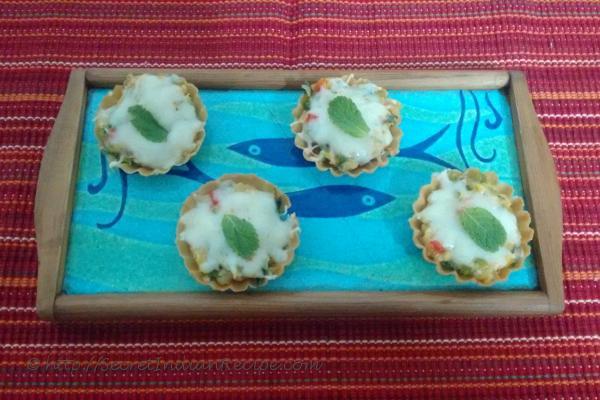 Ingredients:
Savoury tart canapés – 12 Nos
Green, Yellow, Red capsicums cut into small cubes – 1 cup
Onion cut into small – 2 Nos.
Potatoes boiled and mashed – 2 Nos.
Paneer – 1 cup
Red chilli powder – 1/2 teaspoon
Coriander leaves – a small bunch
Grated processed cheese – 1 cup
Oil for seasoning
Salt as per taste
Directions:
Heat oil in the kadai.
Add cut onions and sauté for 1 minute.
Add cut bell peppers and sauté for another minute in high flame.
Add the mashed potatoes and mix well.
Add salt, chilli powder, and mix it well.
Grate the paneer and add it to the mixture.
Cut the coriander leaves finely and add it. Switch off the flame. Filling is ready.
Take a spoonful of mixture into the canapé and top it with the grated cheese.
Grill the canapés in the oven until the cheese melts.
Cheesy, creamy filled canapés are ready to eat.
Footnotes:
In the filling, jalapenos can also be added if preferred for some spiciness.