Creme Caramel
Healthy desert and good for summer.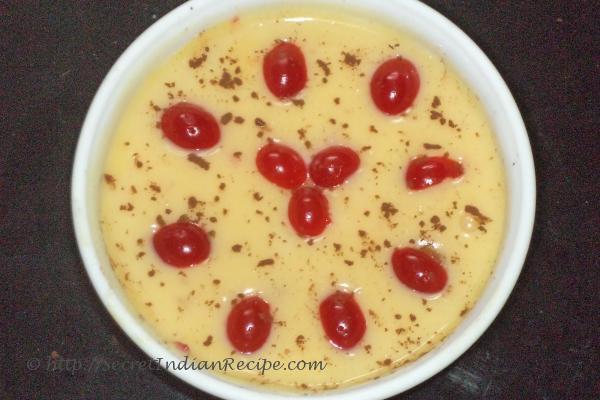 Ingredients:
Milk - 2 1/2 Cups
Sugar - 8 tablespoon
Milk powder - 3 tablespoon
Vanilla custard powder - 1 tablespoon
Eggs - 3
Vanilla essence - 1 tablespoon
Sugar for caramelizing - 3 tablespoon
Directions:
Mix milk,sugar, milk powder and custard powder till smooth in a deep bowl and heat it for 10 mins,stirring once or twice in between after 5 mins. let it cool.
Beat the eggs and essence well with an egg beater till light and fluffy and add to the cooled milk.Keep aside.
Melt 3 tablespoon sugar in a kadhai on low heat till golden. Pour in 6 Small bowls. let the sugar set for 5 mins.
Pour the milk-egg mixture in the moulds. Cover with aluminium foil.
Heat the pudding for 20-25 mins till it becomes light golden and keep it in the fridge so that it gets cool and sets. After it gets cool and your creme caramel is ready to be served.
Footnotes:
Garnish with dry Fruits or fruits