Crispy & Dry Gobi Manchurian
Gobi Manchurian is such comfort food. We usually make this recipe along with noodles or fried rice or even as a starter. In this recipe I have deep fried the cauliflower, but I definitely will be trying a baked version of this recipe too. For now, here is a Crispy and dry gobi manchurian recipe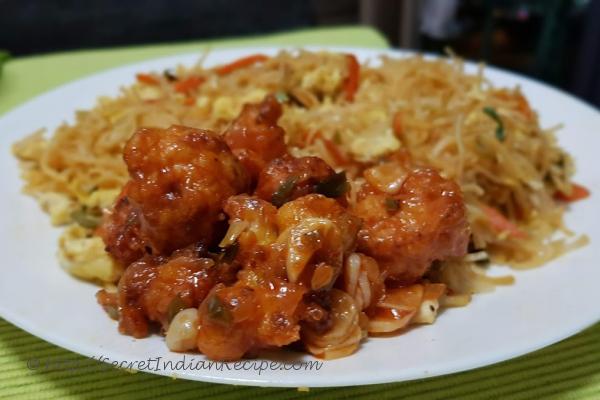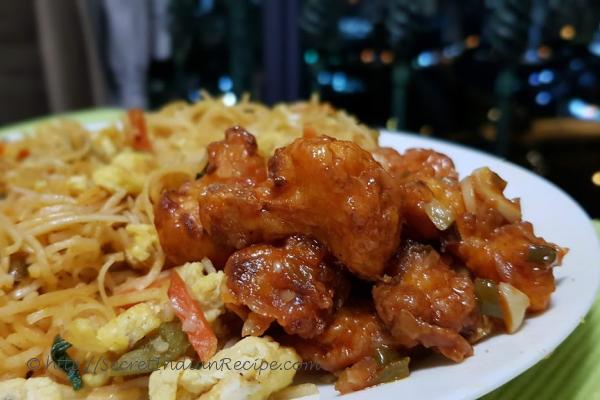 Ingredients:
Cauliflower 1 (about 500 gms)
Chili vinegar 2 tbsp
Onion 1 chopped
Capsicum 1 chopped
Slit Green Chilies 2
Spring Onion greens chopped (4-5 tbsp)
Oil for cooking (about 5-6 tbsp)
Oil for deep frying
Salt and pepper to taste
Ginger finely copped 1 inch
Garlic finely chopped 3-4 cloves
tomato ketchup 3 tbsp
Cornflour slurry
Directions:
Wash and clean the cauliflower and separate the florets. Do not chop into small pieces.
Make cornflour slurry using 1/2 cup cornflour and add cold water little by little to form a thick slurry
Heat oil for deep frying. When hot, dip each floret into the thick slurry to coat it well and deep try till nice golden red.
Set the deep fried florets aside.
Ina wok or pan, heat 5-6 tbsp oil. Add chopped green chilies, ginger, garlic and onions. Saute till onions turn pink
Now add capsicum, tomato ketchup and chili vinegar. Saute till the vinegar raw smell fades away (about 5 mins)
Now add 4-5 tbsp water to the sauce just to make it slightly thin. Add salt to taste and 3/4 tsp of pepper.
Now add the deep fried crispy cauliflower and give a good mix.
Allow the sauce to completely coat the fried cauliflower. If you think you need more sauce add a little more tomato ketchup.
Cook for 5 mins remove from heat and serve hot.