Crunchy Pyaaz Bhaji (my Secret Recipe For Real Crunchy Onion Fritters)
I am an aspiring blogger, currently working on my own blog.. So till the time by blog comes alive, I thought of sharing a few of my recipes here. I am a street food addict. I love pakodas and I have mastered the recipe for crunchy pakodas. I wish I had entered this for the MothersDayContest... Next time may be :)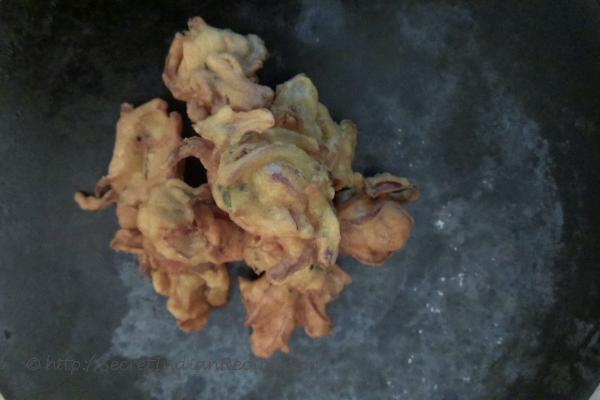 Ingredients:
Onions finely sliced - 3
Besan: A little less than 1/2 cup
Chawal Atta/Rice Flour: 1/2 Cup
Salt: 1/2 Tsp
Green Chilies: 2 finely chopped
Garlic chrushed: 1
Oil for deep frying
Cold Water for batter
Haldi (Turmeric): 2 pinches
Ajwain (Carom seeds) - a pinch
Directions:
In a bowl, mix Besan Rice flour, Ajwain, Salt, Haldi, crushed Garlic, Green chilies and Onion.
Now mix everything using your hands, literally squeeze the onions while mixing. What happens is because of the salt the onione leaves water which helps to bind the pakoda mixture.
Do this for atleast 2 minutes. Usually the water from onions should be enough to bind
but if you feel you need more batter, add just 2 spoon fulls of besan.
Heat oil for deep frying. When hot, slowly leave small sections of the pakodas in the oil. Cook on low heat for 4-5 mins. This will help the pakodas to be very crunchy.
Fry till golden brown on all sides. Serve with mint chutney