Crunchy Sago Spinach Vadas
Enjoy the flavorful blend of spinach, sabudana, potatoes and peanuts in these evening snack fritters. These can be eaten when you are fasting. I have always loved spinach and this is my version of sabudana vada. The peanuts helps in binding and provides the crunchiness. To make it healthy, low fat and nutritional, I have shallow fried the vadas instead of deep frying it.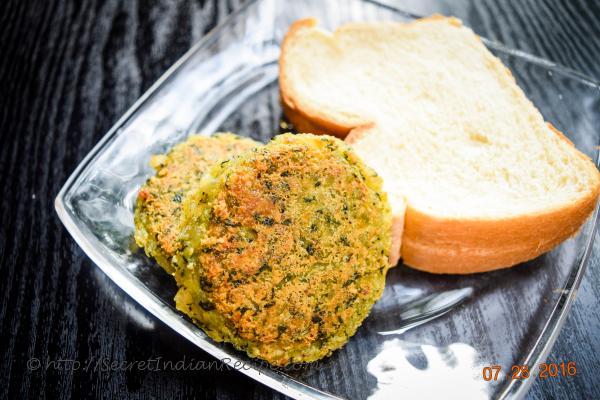 Ingredients:
2 cups Baby Spinach leaves
1 cup boiled, peeled and lump free mashed Potatoes
1/2 cup Sago or Sabudana( washed and soaked for 3-4 hours)
1/2 cup roasted Peanuts, skin removed
Salt as per taste
1/2 knob Ginger, peeled and finely chopped or grated
1 green chilli finely chopped
1/2 tsp ground Black pepper
2 tsp Olive oil + 2 tbsp Olive oil to shallow fry the vadas
Directions:
Drain the sabudana and leave it in colander for at least 15 minutes. Cover it lightly with kitchen paper towel.
Finely chop the spinach leaves. Heat a pan and add 2 tsp oil. When the oil is hot, add the ginger, chopped green chillies and saute at low heat for 2 minutes till the raw smell of the ginger goes away. Add the spinach leaves and stir fry at medium high till the leaves wilt and there is no moisture. Turn off the heat. Allow the spinach to cool for 3-4 minutes
Coarsely grind the peanuts in a mixer or food processor. Add it into the mixing bowl. Add the drained sago, mashed potatoes, black pepper, sauteed spinach and salt. Mix well by hand until the dough holds together. Lightly wet your hand or apply little oil on your palms. Divide the dough into equal medium size balls. Take one ball and pat it lightly in the shape of a patty. Repeat this for all the balls.
Heat a non stick pan and add 2 tsp oil into it. Once the oil is heated, lower the gas and put the patties in the pan. Make sure not to overcrowd the pan and there should be atleast 1 inch gap between the patties. Shallow fry the patties for 5 minutes on each side or until it turns crispy and light golden. Then crack up the heat a little high and again cook each side for 2 minutes each. You will get crispy patties.
Serve the sago spinach vadas warm with chutney alone or place it in between two bread slices topped with green chutney , toast it and enjoy it as a veg sandwich. All in all a healthy diet meal.