Crunchy Thondekai Palya (crunchy Gherkin Sukha Subzi )
This is a lovely, crunchy, recipe. Great to eat with chapati and dal. It leaves you with a lingering flavour and fragrance of the spices .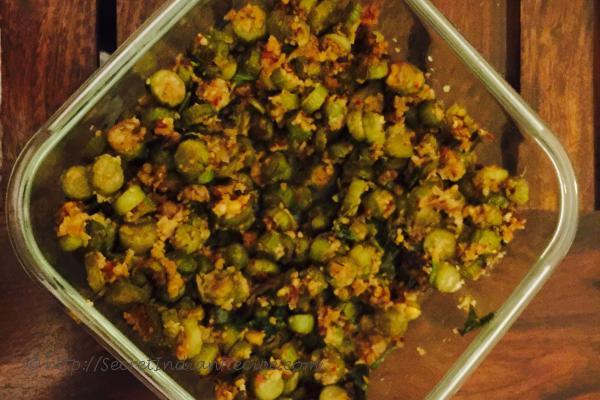 Ingredients:
MAIN INGREDIENTS
Gherkins (a variety of cucumber) :½ kg cut in circles
0nions :2 big chopped
Tomato : 1 chopped
INGREDIENTS FOR THE POWDER
Kadale bele ( Channa dal or split Bengal gram) : 2 tablespoon
Copra or fresh grated Coconut ( ¼ tsp)
Red chilli :5 to 6 ( according to one's taste )
Pottu kadalai ( Roasted gram):1 tsp
Hing: ()asafoetida a pinch
Jeera(cumin) seed 1 tsp
Sonf : (fennel seed) ½ to 1 tspoon
One small piece of Tamarind
Curry leaf
INGREDIENTS FOR SEASONING
Mustard
Udad dal (Black gram)
Hing
Curry leaf
Directions:
Roast the bengal gram dal and dry red chilli. Dry roast the copra (or the grated coconut), jeera, fennel seeds, curry leaf, pottukadalai, hing and tamarind. in a kadai . Grind them all together except for the curry leaves. Do not add any water. In the final round of grinding add the curry leaves and grind them into a coarse mixture powder. Keep the powder aside .
In a wok or a kadai, heat oil and add jeera , mustard ,urad dal and hing. Once the mustard sputters, add the curry leaves and then add the onion and saute it for some time. When it turns pink, add the gherkins. Add a little water, cover it with a lid, and cook for two minutes.
Once the gherkins are cooked, add the powder, salt and small piece of jaggery. Mix them well and let the powder and gherkins blend well. Add the tomatoes and once it is cooked garnish it with coriander leaf and serve it with hot phulkas .
Footnotes:
The gherkins have to be cooked well but should be crispy .