Cumin Rice / Jeera Rice
Cumin Rice / Jeera Rice is a simple, quick and easy to make dish. I always make this when I am in hurry or want something simple for lunch / dinner.
Hot Jeera Rice with Dal Fry is a comfort food after a busy day. You can serve it with simple dal, dal fry or as it is. It also makes a great side dish for a heavy lunch or dinner.
You can also add some veggies to it and make simple pulav and serve it with boondi raita to fix a quick luch or dinner.
This is kid friendly dish as its not spicy and if you add veggies and serve with raita then it will be a healthy meal for kids.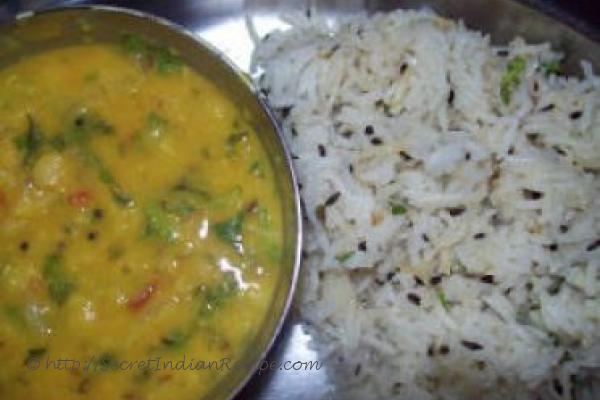 Ingredients:
1 Cup Rice (Basmati Preferred)
2 Cups Water
1 ½ Tea Spoon Oil / As per your requirement
1 Small Bay Leaf
1 inch Cinnamon Stick
1 ½ Tea Spoon Cumin Seeds / As per your requirement
5-6 Curry Leaves
Salt as per taste
Fresh green coriander leaves
Directions:
Wash and soak the rice for 10-15 min. (Remove water before cooking)
Heat oil in a pressure coker on medium heat.
Add cinnamon stick and bay leaf, stir for a min.
Add cumin seeds, stir till they crackle.
Add curry leaves and stir for a min.
Add salt and mix well.
Add rice, mix well and cook for a min. stiring continuously
Add Water and some chopped coriander leaves. Close the lid and pressure cook the rice till 2 whistles on medium heat.
Open the lid when cooker get cool down.
Mix the rice slowly and garnish with chopped coriander leaves.
For more interesting recipes and articles please visit my blog www.vslittleworld.com