Curd & Fish Kaalia By Hiran B Debnath
You can make Kaalia with Rohu Fish or Catla Fish (Both are sweet water Indian fish). It's a famous Bengali traditional Fish recipe with curd. Goes very well with steamed white Rice.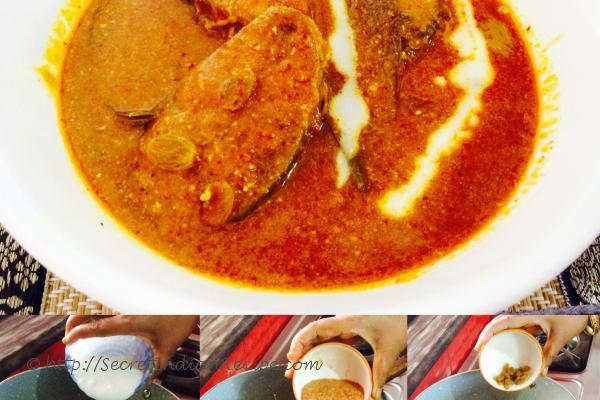 Ingredients:
Rohu Mach (Rohu Fish) - 500g
Doi (Curd) - 200g
Tomato - 2
Tej pata (Bay Leaf) - 2
Halud (turmeric) powder - 1/2 tbsp
Jeera (Cumin) powder - 1/3 tbsp
Ada (Ginger) paste - 2 tbsp
Peyaaj (Onion) paste - 3 tbsp
Garam Masala powder - 1 tbsp (mixture of Darchini/Cinnamon, Elach/Cardamom, Long/Cloves)
Kashmiri Lanka r guro (Kashmiri red chilli powder/any red chilli powder) - 1/3 tbsp
Kacha Lanka (Green chilli) - 3/4
Kalo morich er guro (Black pepper powder) - 1 pinch
Sugar - 1tbsp
Salt as per your taste
Raisins - 1/2 cup
Mustard Oil - 5/6 tbsp
Ghee - 1/2 tbsp (clarified butter that is originated in ancient India )
Directions:
In a mixture grinder add 2 tomatoes, ginger paste, garam masala powder, cumin powder, red chilli powder, onion paste and grind them well.
Marinate Fish pieces with turmeric powder and little Salt.
Next, Heat your Pan/Kadhai, add 3/4 tbsp mustard oil and once the oil is heated, you need to Shallow fry the Fish pieces. Keep the fried fish pieces aside.
Now, add 3 tbsp mustard oil on your Kadhai and when it's heated add Bay leaf to it and when the colour will turn brown, add Raisins and add the whole grinded spice mixture in the Kadhai. Stir it well and cook all the spices for 4/5 minutes. You will get a nice aroma out of all the spices. Now add Curd to it.
Stir the whole spices with curd well and add 1 cup water to it. Last, add the shallow fried Fish pieces into the spices, cover it with a lid and let it cook for 2/3 minutes under low flame. Finally, Add 1/2 tbsp ghee to it at the end.
Footnotes:
* Traditionally we use mustard oil to prepare this dish but if you don't get mustard oil, you can also use refined oil. * Always remember, Chilli and Salt always goes as per your own taste.
Other Indian Recipes that you may Like !