Curry Leaves Chutney
Curry Leaves Chutney is called as Karuvepagu Chutney in Telugu or Karuvepillai Chutney in Tamil. Curry leaves are good for health as they contain Iron content. This Chutney can be mixed with hot rice and served or it can be good accomplishment for Idli or Dosa. It can be refrigerated and used for 2 or 3 days. Hence, it is a good and simple food item for carrying, storring and using as and when required.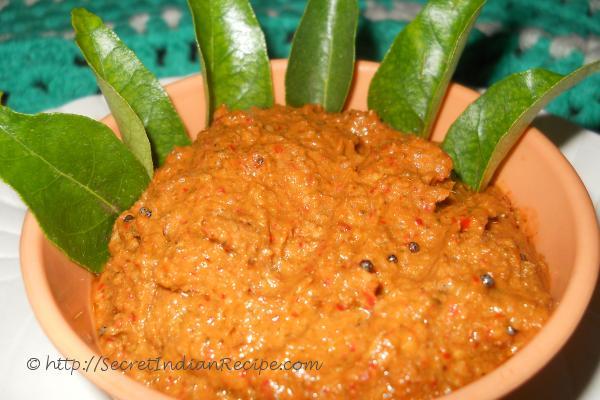 Ingredients:
Curry Leaves – Small bunch
Urad Dhall – ½ tablespoon
Red Chilli – 10
Grated Coconut – ½ tablespoon
Garlic Flakes – 5
Tamarind – small piece
Jeera – 1 teaspoon
Mustard – 1 teaspoon
Vegetable oil – 2 teaspoon
Salt to taste.
Directions:
Wash and clean the curry leaves. Dry the leaves in shade in a cloth till the water is dried.
Dry roast the curry leaves for 2 or 3mins in medium flame. Keep it aside.
Heat ½ teaspoon of oil in Kadai, add Urad dhall and red chilli and roast till urad dhall is light golden brown colour. Allow the contents to cool.
Dry grind the urad dhall, red chilli, salt, curry leaves, tamarind and coconut.
Now add water to dry grind and continue to grind for another 1min
Add garlic, jeera and complete the grinding. Remove the contents in a container.
Heat the balance oil in kadai, add mustard and complete the seasoning.
Add seasoned mustard with oil to the curry leaves paste and mix well.
Footnotes:
Tasty curry leaves chutney is ready for serving with rice or idli or dosa.