Custard With Fruit Salad Recipe
Kids love custard and if you can add some fruits to it, it becomes nutritious and you will love it too. Here is a very simple and easy way to make fruit custard recipe from scratch in your Kitchen.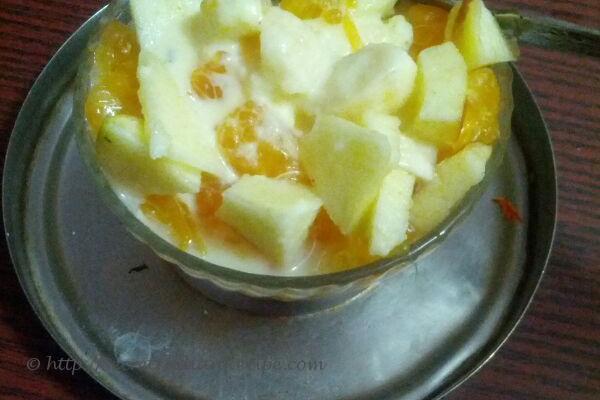 Ingredients:
Milk - 300 ml
Vanilla Essence- 1/2 Tbsp
Sugar - 2 tablespoon
Egg yolks - 2
Apple - 1 piece ( cut in small pieces)
Oranges - 1 piece ( cut in small pieces
Cashew - 1 tablespoon ( chopped)
Directions:
Boil the milk and turn off heat
Beat the egg yolks and sugar in a large bowl.
Pour the milk into the beaten egg yolk and keep whisking rapidly to avoid curdling
Now place this mixture back on heat and cook for 5 to 6 minutes more till mixture thickens. Turn off heat and add in the vanilla essence.
Transfer to a bowl and add the apple, oranges and cashew and mix slowly.
Put the bowl in a refrigerator to set for an hour.
Serve chilled.
Footnotes:
You can add any fruit of your choice.