Daab Chingri (prawns Cooked In Tender Coconut)
Daab Chingri is an authentic traditional Bengali recipe. This is a very special dish which is occasionally prepared at my home, and the unique taste always reminds me of my grandmom from whom I learnt this recipe.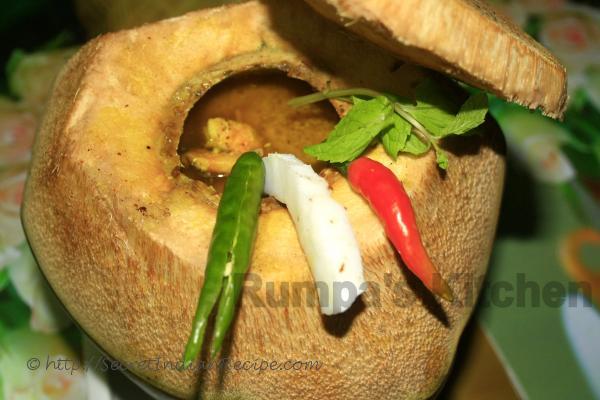 Ingredients:
1 green coconut (which has started to form layers of cream inside)
500 grams prawns
3 tablespoon mustard oil
1 teaspoon salt
1/2 teaspoon turmeric powder
1 onion
6 garlic cloves
1 tomato
1 ginger (1 inch)
4 green chilies
3 tablespoon home made mustard paste
Directions:
Take a tender coconut (green coconut) which has started to form soft layers of coconut inside. Make a whole (2x2 inches) on the top keeping the cutout to use as a lid later. Drain out the coconut water inside into a separate bowl and keep the coconut aside.
Make a paste of onion, garlic, ginger, green chilies and tomato
Remove the prawns from shells and marinate with salt, turmeric powder and mustard oil(1 table spoon) for 5mins
Make a semi liquid paste of 3 tablespoon of mustard powder (home made mustard seed paste would be recommended) with coconut water (3-4 tablespoons).
Heat oil(2 table spoon) in a pan. Add paste of onion, garlic, ginger, tomato & green chili
When the paste well cooked and all the water is released (approx 5 minutes), add the semi-liquid mustard powder paste and cook for 2 minutes
Add prawns and cook till the gravy is thick
Pour the entire content of the step in the coconut, and then add 4 cut green chillies.
Pour some coconut water and cover the cut portion of the coconut with the coconut lid.
Put the coconut in the microwave and cook for 10-15 minutes.
Take out the lid of the coconut, check if the prawns are soft. If required may be cooked for 5 minutes more. Serve with rice.
Other Indian Recipes that you may Like !