Dabba Goshth (mutton)
This is a very typical muslim dish and is loved by everyone. This can be made with chicken as well and is also known as 'Chicken Sanju Baba" !!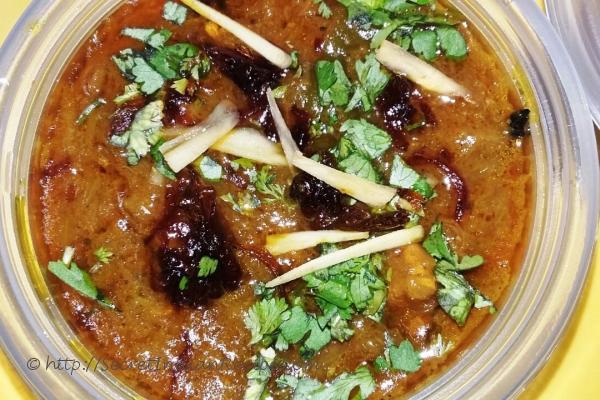 Ingredients:
1 kg Mutton / Chicken
1 kg Onions
2 tsp Coriander/ dhanya powder
1 tsp Turmeric / haldi powder
10 Dry Red chillies
2 nos all Whole Garam masalas ( green cardamom, black pepper, cloves, star anise)
Oil - 100 ml
Salt to taste
Fresh Coriander and lime wedges
Directions:
Heat Oil in the pressure cooker.
Add the mutton / chicken along with onions, coriander powder, turmeric, red chillies all the garam masalas and salt.
Close the lid and give atleast 4 - 5 whistles if it is mutton and 1 - 2 whistles if it is chicken.
Once its done ...take out the mutton / chicken pieces and keep it separate and let masala cook nicely ( bhuno it nicely) till the oil seperates and a thick gravy forms, Now add the mutton / chicken pieces and mix it well along with the masala.
Once its done garnish it with fresh corriander and lime.
Serve hot with roti / naan :)
Footnotes:
This is a very easy dish and tasty as well.
Other Indian Recipes that you may Like !