Dahi Aloo Chaat (potatoes In Savoury Curd Base)
Dahi Aloo chaat is a popular street food from Kolkata. It is a healthy snack and has zero oil. This dish consists of boiled potatoes which are served with beaten curd and some spices.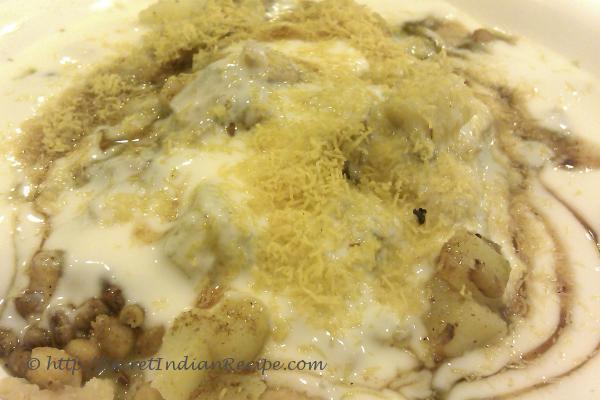 Ingredients:
Boiled Aloo ( Potatoes) - 4 pieces
Boiled sprouted moong dal - 1/2 cup
Curd - 1 cup
Roasted Cumin powder - 1/2 tablespoon
Roasted Red chilli powder - 1/4 tablespoon
Kala Namak ( black salt) - 1/4 tablespoon
Sugar / Tamarind chutney - 1/2 tablespoon ( optional)
Directions:
Peel the boiled potatoes and cut them in to small cubes.
Beat curd in a bowl and put the potatoes and boiled moong dal in it
Add roasted cumin powder, red chilli powder, kala namak and tamarind chutney or sugar and mix well.
Keep it in refrigerator for cooling and serve after 20 minutes.
Footnotes:
You can add some cucumber and tomatoes to make it more tasty and healthy.