Dahi Arvi (colocasia/taro With Curd )
I had this dish in my friend's home. Taro roots and leaves both have great flavours. Taro roots are used to prepare curries, fried for chips, cakes, roasted, boiled, steamed, etc.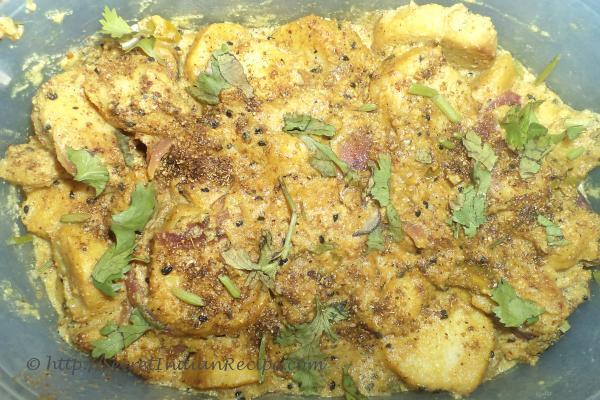 Ingredients:
Boiled and Chopped Colocasia- 500 gm
Curd-250gm
Oil-1 tablespoon
Carom seeds-1/8 tbsp
Chopped Green Chili-1/8 tbsp
Chopped onion-1/2 tbsp
Salt to taste
Red chili powder-1/8tbsp
Garam masala-1/6 tbsp
Turmeric powder- 1/8 tbsp
Directions:
Take a pan and pour some oil into it. Fry the Boiled colocasia till it get light crispy.
Take another pan and pour some oil into it and add carom seeds into it.
Add chopped onions,green chili,salt,red chili powder and turmeric powder.
Mix it well and make the onions fry untill it turns browinish in colour.
Add the fried colocasia into it and close the lit for sometime to make the colocasia soft.
After that mix it well and curd into it, cook it until the gravy is thick.
Add garam masala into it. Your dish will be ready.
Footnotes:
serve with chappati or rice. You can use mango powder if the curd is not much sour.