Dahi Baigana ( Eggplant With Curd )
Bringing with it a gist of the rich Oriya cuisine, Dahi Baigana is a recipe that leaves the mouth watering and the heart aching for more. With fried eggplant pieces dipped in soothing curd, it should be a must on your hot weather dish.
I got to know about this interesting recipe from my mother-in-law, who takes a lot of interest in the preparation of various Oriya recipes. When I got married, I noticed my in-laws biting on this dish on a regular basis. That was when this recipe becomes one of my favorites.
It is a side dish, taken with rice either at lunch or dinner.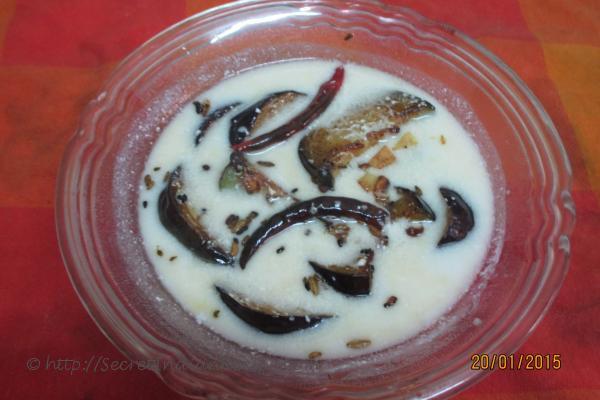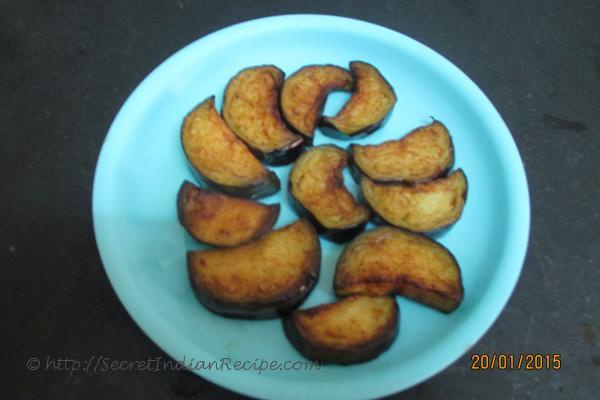 Ingredients:
1 eggplant (medium sized)
500 ml curd
2 lobes of garlic (chopped)
4 red chilies
1/5 teaspoons mustard seeds
1/5 teaspoons cumin seeds
1/5 teaspoons fenugreek seeds
1/5 teaspoons fennel seeds
1/5 teaspoons black cumin seeds
1 green chilies (chopped)
1 cup of water
Salt to taste
One cup of oil (for frying the eggplants)
1 teaspoon oil
Directions:
Cut the eggplant into slices and then again into two parts.
Mix them with a little salt and keep aside.
Take curd in a bowl, add water and salt into it, mix well and then keep aside.
Place a frying pan on stove. Pour the oil into the pan.
When the oil gets heated, put the eggplant pieces into the frying pan.
Fry the eggplant pieces until they turn golden brown color. Remove the fried eggplants from the pan into a plate and allow them to cool down.
Place a small frying pan on the stove and add one spoon of oil into it.
After the oil gets heated, add mustard seeds, then cumin seeds, black cumin seeds, fenugreek seeds and fennel seeds.
When the seeds crackle, add red chilies and chopped garlic. Sauté for a few seconds and then switch off the stove
Add these roasted seeds, chopped garlic and chilies into the curd and stir well.
Then add the eggplant pieces into the curd. Let the eggplant pieces soak the curd well.
Garnish with chopped green chilies.
Your Dahi Baigana (Eggplant with Curd) is now ready.
Footnotes:
You can avoid adding water to the curd if the curd is not thick.
You can also add curry leaves to this dish.