Dahi Chawal
It is perhaps one of the easiest and healthy recipes in Indian cuisine. It is a wonderful combo ofcarbohydrates and protein and since curd is also a natural source of probiotics, it is a therapeutic recipe for people complaining of bad digestion. The best thing is you can have curd rice for 365 days like your dal and rice and you cannot get bored with it. #healthy indian recipe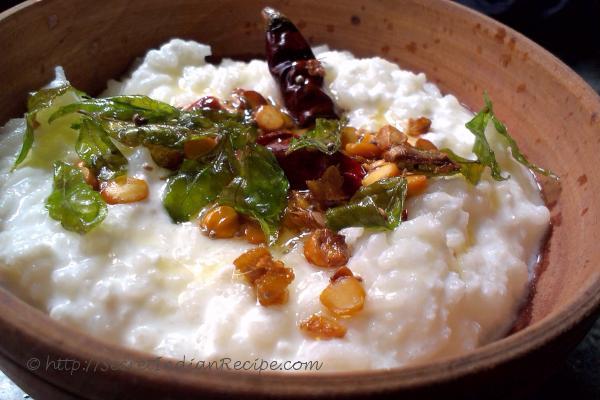 Ingredients:
Cooked Rice - 2 cups
Homemade Curd - 2 cups
Curry Leaves - 6-7
Whole red chili - 1-2
Black mustard seeds - 1/4 tablespoon
Hing (Asafoetida) - a pinch
Salt to taste
Oil - 1 tablespoon
Channa dal (split bengal gram) - 2 tablespoon
Directions:
Soak the channa dal in 1/4 cup of warm water for at least one hours.
Beat the curd in a bowl till it reaches a creamy consistency.
Combine curd and cooked rice in a bowl and mix salt to taste.
switch off the gas.
Quickly add black mustard seeds, hing, curry leaves, channa dal and whole red chili in the hot oil. No need to cook, Just wait for few seconds, The ingregients will change their colout in hot oil.
Now pour the tempering over the curd and rice mixture.
Serve Immediately.
Footnotes:
Soaking the channa dal makes them soft and then it requires less time to cook. If you are cooking it in a hurry then avoid them and use cashew instead.