Dahi Gujiya (stuffed Black Lentil Dumplings In Sweet And Sour Curd)
In Indian wedding, food is very important….if the food is good; guests talk about it and remember the wedding for years. In one of my cousins' wedding, I had this 'Dahi Gujiya'. It is somewhat similar to indispensable ' Dahi Vada' of Indian weddings but the difference is that the vada is stuffed with cashew and raisins. You can call it a hybrid of 'Gujiya' (A traditional Indian sweet dish made on Holi in northern India) and 'Dahi Vada'(A traditional sweet and sour snack dish).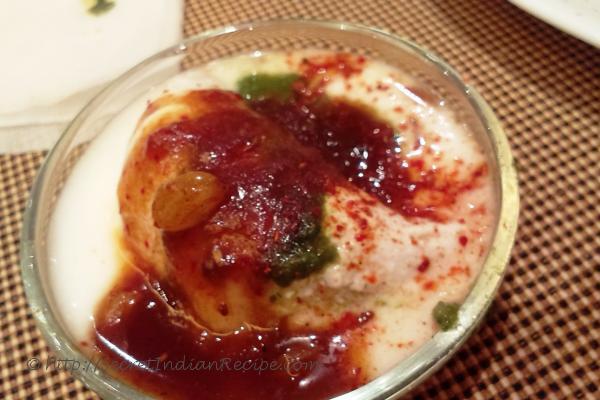 Ingredients:
(For Gujiya)
Safed Urad dal (Polished black lentil) – 1 cup
Ginger – ½ inch piece
Jeera (Cumin seeds) – 1 teaspoon
Green chilli -2-3 pieces
Hing (asafoetida) – a pinch
Cashew- 2 tablespoon
Raisins – 1 tablespoon
Salt – as per your taste
Oil – to fry the gujiyas
For Dahi –
Curd – 2 cups
Roasted cumin powder – 1 tablespoon
Roasted chilli powder – ½ tablespoon
Salt – as per your taste
Green Coriander chutney – 2 tablespoon
Tamarind chutney – 2 tablespoon
Directions:
Wash the urad dal thoroughly and then soak it in water for 4 hours. This will make grinding easy.
In the meantime chop the cashew and raisins into small pieces and keep aside.
After four hours of soaking, rinse the urad dal with water again and then drain the excess water.
Pour the dal in a mixer grinder along with ginger, green chillies, cumin seeds and hing and grind into a smooth paste. You can add 2-3 tablespoon of water for easy grinding. Add the salt to the dal mixture and keep aside.
Switch on the gas and place a pan on the stove. Pour oil for frying gujiyas. Till the oil is heated, take portions from the batter and then spread it on your palm like a small rounded tikkia. Put some chopped cashew and raisin pieces at the centre and then fold it like a 'Crescent moon' or semi circle.
Put the gujiya in hot oil for frying. Fry on a low heat till the surface turns golden brown.
Follow the procedure till all the gujiyas have been made.
Take a bowl of water and put the fried gujiyas in it. Leave it aside for 30 mintues and then take out the gujiyas from water. Keep the gujiyas in the refrigerator till serving.
Before serving whisk the curd with salt and pour it in small bowls. Place one stuffed gujiya in each bowl and top it with some roasted chilli powder, roasted cumin powder, coriander chutney and tamarind chutney.
Enjoy your Dahi Gujiya.