Dahi Papdi Chaat
A very popular snack recipe. The main ingredient is papdi. Papdi is small rounded chips, made up of maid and is easily available in the market. You can make papdi at home by simply mixing maida, ghee /refined oil, salt and nigella seeds and water in 5:2: 1:2 ratio and then making small rounded chips and frying it.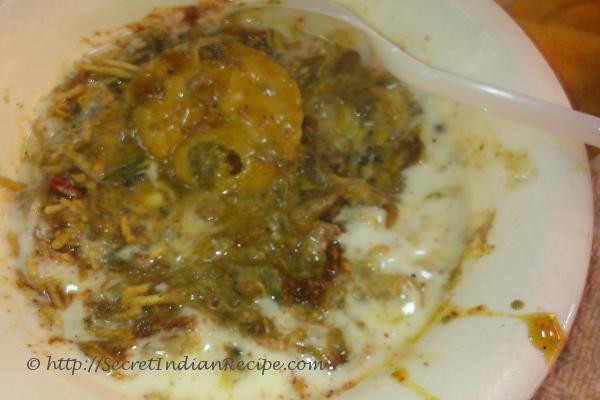 Ingredients:
Papdi - 10 pieces
Curd - ½ cup
Boiled Chole (chickpeas) – ¼ cup
Boiled potato – 1 piece
Coriander chutney – 2 tablespoon
Tamarind chutney – 2 tablespoon
Roasted cumin powder – ½ tablespoon
Roasted red chillli powder – ½ tablespoon
Rock salt – ½ tablespoon
Directions:
Whisked the curd with ½ tablespoon of sugar and keep it in the refrigerator for 30 mintues.
To serve, take a serving plate or bowl.
Place a layer of mashed potatoes and boiled chole. Top it with a layer of papdi. Now pour whisked curd over it. Then pour some coriander chutney and tamarind chutney over the curd. Finally sprinkle roasted cumin powder, red chilli powder and rocksalt and serve.
Footnotes:
Make the chaat just before serving, if you make it before and keep it, the papadi will turn soggy.