Dahi Phuchka/ Golgappe
Being born and brought up in Kolkata, the first thing that comes to my mind when I talk about street food is Puchkas (Better known as Golgape or Pani puri). I have travelled a lot but still I can bet that Kolkata has the best Phuckas……The reason is the stuffing of mashed potatoes. In other parts of India puchkas is usually served with Spicy or boiled chickpea. If you really ponder over actually puchkas is tasteless without the 'Stuffing' and the 'Pani'….the tamarind or mint water. In this recipe I use thick curd instead of tamarind water to give a different taste.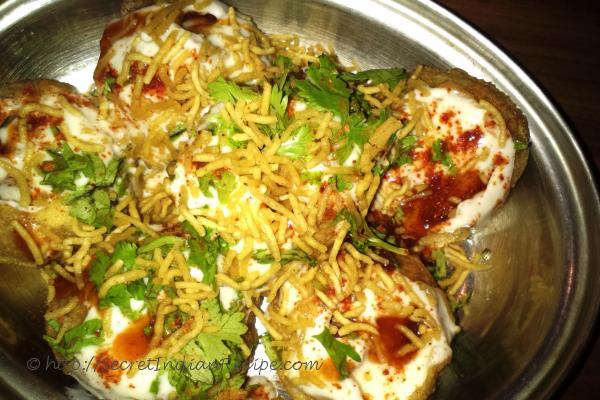 Ingredients:
For Phuchka
Sooji (Semolina) – 100 grams
Maida (Refined flour) – 100 grams
Salt – As per your taste
Oil – for frying Phuchka
For stuffing and dahi
Boiled potatoes – 4 pieces
Green coriander leaves – 3-4 tablespoon (Chopped)
Green chillies – 2-3 Pieces (Chopped)
Roasted cumin powder – ½ tablespoon
Chaat masala -1/2 tablespoon
Thick curd – 1 cup
Tamarind chutney – 3-4 tablespoon
Green chutney – 2 tablespoon (Optional)
Salt – as per your taste
Sugar – 1 tablespoon
Sev (Fried thin wafers) – 3-4 tablespoon
Directions:
You can make this recipe with the readymade Phuchka packets available in the market or can make Phuckas at home. To make Phuchkas, first pour the sooji in a large bowl. Add Maida, salt as per your taste and 5-6 tablespoon of oil. Mix well. Add some water slowly and keep mixing. Remember the dough must be tight or else you will not get the required crispiness.
Once the dough is prepared keep it aside for 15 mintues.
In the meantime whisk the curd with required salt and sugar and keep in refrigerator.
Now for the stuffing, mash the boiled potatoes in a large bowl. Add chopped green chillies, coriander leaves, roasted cumin powder, chaat masala and salt…..please note chaat masala has salt in it so you need to add salt just to adjust the taste.
After 15 mintues, take very small portions from the sooji dough and roll it over the rolling spin into thin rounded wafers.
Heat oil for frying the phuckas and then slowly put the rolled out thin wafers in batches. Do not put more than three to four puchkas at a time. It will take just few seconds for Phuckas to turn into small balloons so you really need to be fast…….you can adjust the flame to avoid burning.
Once your phuckas are ready keep them in air- tight containers.
Before serving, lay five to six phukas on a plate. Fill in the Potato mash stuffing in each Phuchka. Now pour the thick curd over each phuchkas and finally top it with tamarind chutney, green chutney, chopped coriander leaves and sev…….Serve immediately.
Footnotes:
Keep phuckas in air-tight containers or else it will turn soggy.