Dahi Sabudana (sagoo With Curd)
Sabudana or sago Khichdi is quite common in India during festivals like ' Navrathri' or any religious ceremony which involve fasting. According to Hindu mythology, eating grains, onion, garlic and non vegetarian food is prohibited during fasting or any religious ceremony. During such occasions, satvik food which includes fruits, milk and milk products and vegetables can be consumed. Sabudana is processed, ready to cook food made from starch extracted from Sago palm. Sometimes sabudana is made from starch extracted from Topioca plants and both types look the same. Sabudana is full of starch or carbohydrates and hence during fast it is a quick source of energy. In India Sago is consumed by making Vadas, khichdi and in form of pudding. Since Sago has very low content of protein, I added curd in this recipe to compensate for the protein and make it a wholesome food.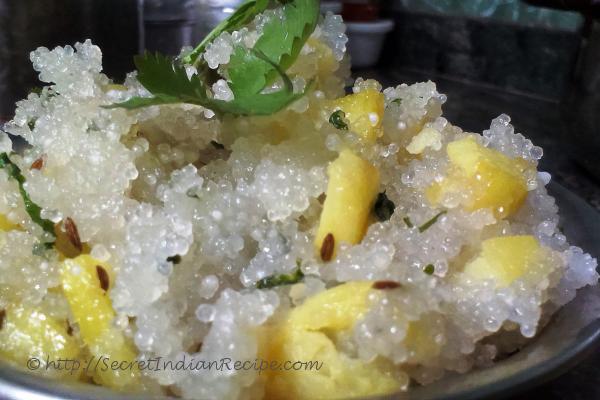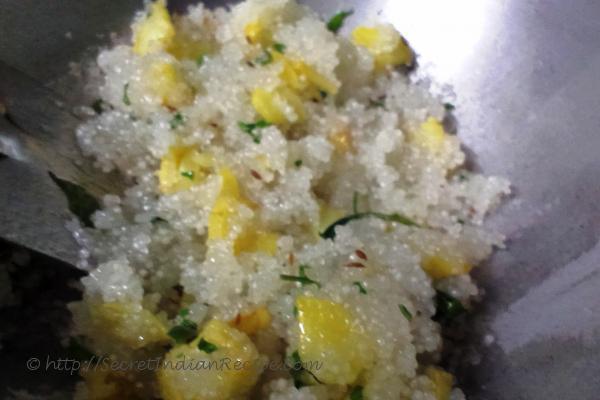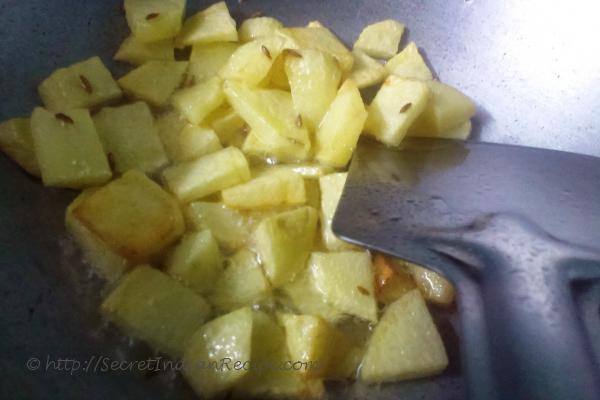 Ingredients:
Sabudana (Sago) – 100 grams
Potato – 1 medium sized
Green coriander leaves – 3 tablespoon (Chopped)
Green chilies – 2 piece (Chopped)
Cumin seeds – 1/4 tablespoon
Home made curd – ½ cup
Salt – To taste
Sugar – a pinch
Oil – 4 tablespoon
Directions:
Wash and soak the sabudana for 1/2 an hour. Choose the small grains for this recipe. The Larger grains, need more time for soaking and cooking too.
In the meantime, peel the potatoes and chop them into small sizes.
Heat oil in a pan and add the cumin seeds. As it pops up and releases its aroma, add the potatoes. Sauté the potatoes on medium flame till they start turning a little brown. Turn the flame low and cover the pan with a lid.
Cook the potatoes for 6-7 mintues till they are done.
Now drain the excess water from sabudana and pour it into the pan. Add chopped corianders, chopped chilies, salt and sugar and mix. Increase the flame to medium and continue stirring. Sabudana is little sticky so if you do not stir, it will get stuck at the bottom.
Within few seconds you can see sabudana changing its colour from white to transparent pearls.
Now put the flame low and add the whisked curd. Mix and then switch off the flame.