Dahi Vada (black Lentil Dumplings In Sour Curd)
It is quite popular in India for its irresistible and mouth watering flavour. It is an Indian chaat prepared by soaking urad dal vada( Black lentil dumplings) in thick dahi (curd). In Odisha, It is one of the street food options.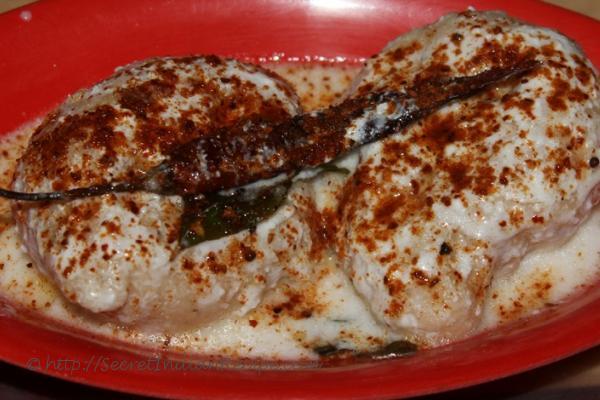 Ingredients:
Biri Dal (Urad / Black Lentils) 2 Cup
Semolina (sooji) 2tablespoon
Curd 400gm
Mustard Seeds 1/2teaspoon
Baking powder 1/2teaspoon
Curry Leaves 1teaspoon
Black Salt (Kala namak)
Red Chilli 4-5 Pieces
Aamba Ada (mango Ginger) 1/2teaspoon
Salt to taste
Oil for deep fry
Roasted and Grinded Cumin with Red Chilli powder
Directions:
For vadas soak urad dal for 3-4 hrs. Grind into smooth paste. Add salt, baking powder, sooji, mango ginger and mix well and keep aside.
Heat oil in a pan. Make small balls from the urad dal mixture and and fry on all sides till it turn brown. Remove the fried vadas and put in water. Allow the vadas to soak water.
For dahi, heat 2 tablespoon oil, add mustard seeds and let it splutter. Add broken red chilli and curry leaves. Allow it to cool down.
Pour this tempering over the dahi, add salt to it and keep aside.
Now squeeze the vadas out of water and dip it in curd. Allow the vadas to rest in curd water for 15-20 minutes.
Before serving, place the vadas along with curd in a bowl, sprinkle black salt and roasted cumin and dry red chilli powder over it.