Dal [aamthi]
It is a lentil preparation served with steamed rice. Easy to make and most staple food item found in every house in india. But there are many variation in it.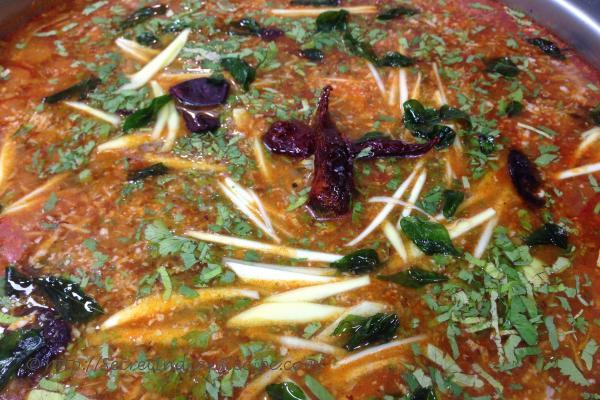 Ingredients:
Toor dal -50gm
Moog dal-50gm
Turmeric-15gm
Red chilli powder-30gm
Coriander powder-20gm
Green chilli-4no's
Dry Red chilli -4no's for garnish
Chopped Onion -50gm
Chopped tomato-50gm
Tomato julienne-15gm for garnish
Curry leaves -20no's
Raw mango julienne-15gm for garnish
Salt to taste
asafoetida[hing]-2 pinch
Ghee/oil-40ml
kokum -5no's for garnish
Fresh coriander -for garnish
Water-as required
Mustard seeds -one tea spoon
Jeera (Cumin) -one tea spoon
Directions:
Boil the dal with salt and turmeric in pressure cooker and keep the excess water in it.
In heavy bottom pan add oil or ghee as preferred.
Add mustard seed + whole jeera + chopped chilli + curry leaves + hing.[temper it] as the seeds pops up add chopped onions. Sauté it well
Then add chopped tomatoes, turmeric, chilli and coriander powder. Mix it well.
Add the boiled dal with remaining water which was left while boiling the dal.
Add seasoning after tasting it as dal was cooked with salt.
Finish it with adding some ghee and garnish it with raw mango, tomatoes, coriander and Kokum.
Footnotes:
Cook the dal with salt and turmeric and little oil. It taste good as compared to boiled dal.