Dal Gosht (lentils Cooked With Goat Meat)
Dal Gosht is one of our favourite dishes for the winter. We love soups, rasams, and lentils based curries and make it a must in our diet during winters. This time I did not plan this curry intentionally. I got some mutton bones alone to make soup. But after boiling these bones for making stock, I wanted to see if they still had juices left. So I thought I would make dal gosht instead of plain dal and I was surprised to learn this was a nice technique. Without spending money on meat we got a meaty flavoured dal and that just made our day. There was no meat except the little left on the bones but the flavours of mutton lingered on.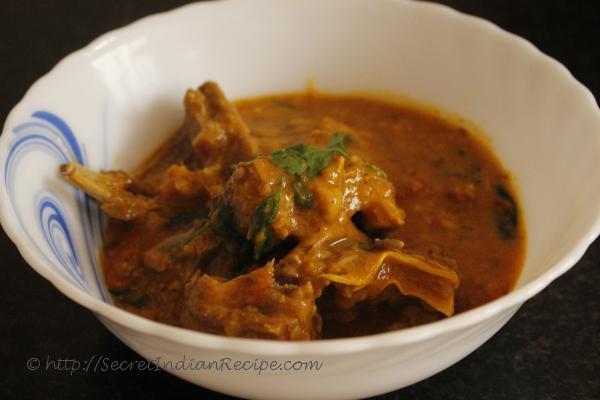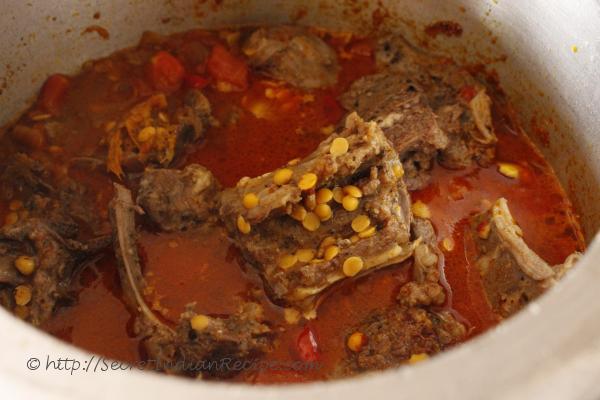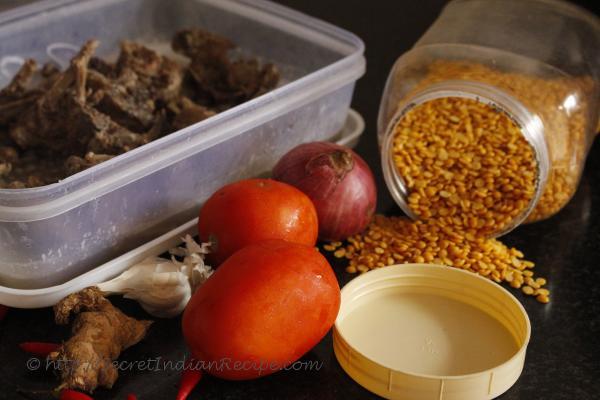 Ingredients:
Mutton bones- 1/2 kg
Pigeon lentils- 1 cup
Onion-2
Garlic- 5 cloves
Ginger- 1 inch long piece
Green Chilies-4
Tomatoes- 4
Turmeric powder- 1/2 tsp
Chili powder- 1 tsp
Coriander powder- 1 tsp
Garam Masala- 1 tsp
Pepper powder- a pinch
Oil- 3 tsp
Lemon juice- 1 tsp
Chopped coriander leaves- 1 cup
Salt- to taste
Directions:
I have used cooked bones already kept after using for my soup but ideally you can start with fresh bones. Keep it washed.
In a presser cooker, heat the oil and add the minced ginger and garlic first. When the ginger- garlic brown, add the chopped onions and green chilies slit.
When the onions soften, add the spices (turmeric, coriander, chili, pepper and garam masala powders). Now saute till the spices are roasted for like 3-4 minutes over medium flame.
Add the tomatoes and salt after this point and cook till the tomatoes break down. Now add the mutton bones and lentils and coat them in the spices by tossing them around.
Add 1 cup water and pressure cook up to 2 whistles. When the pressure settles, open the cooker and add the lemon juice and let the curry simmer for 5 minutes over low flame.
Garnish with chopped coriander leaves and take the curry off the flame. Serve with rice or rotis.
Other Indian Recipes that you may Like !