Dal Pharah Aur Chokha (wheat Flowers Cooked In Yellow Lentil Served With Potato Mash)
A very popular and age old recipe from Uttar Pradesh and Bihar. Just like Littli and chikha this is a complete meal in itself. Dal Pharah in simple words means whole wheat cakes cooked in Toor dal. This recipe is served with Aloo Chokha or Potato mash and sweet or sour pickles. Ingredient wise it is quite close to 'Dal Batti' from Rajasthan and process wise 'Dal Dhokli' from Gujrat….what makes it unique for me is its simplicity and the fact that it is one dish that reminds me of 'Mummy ke Haath ka khana'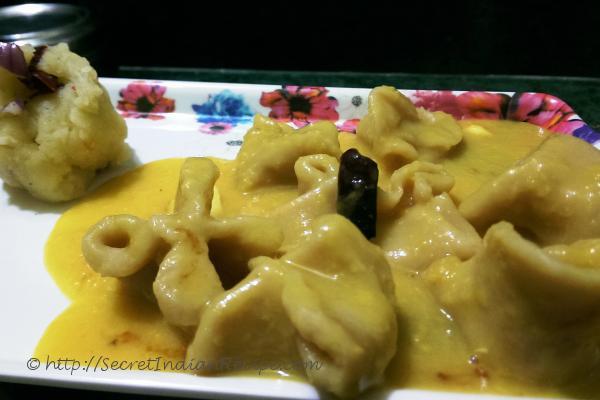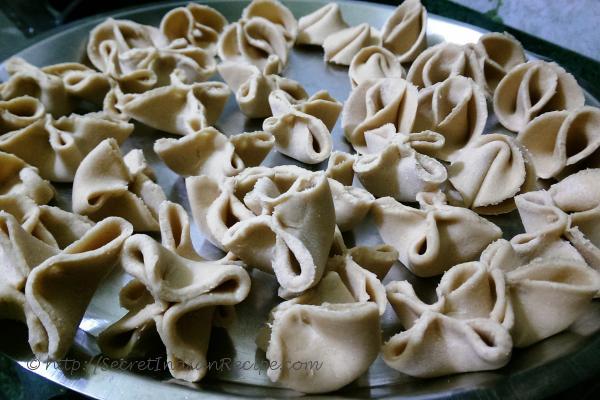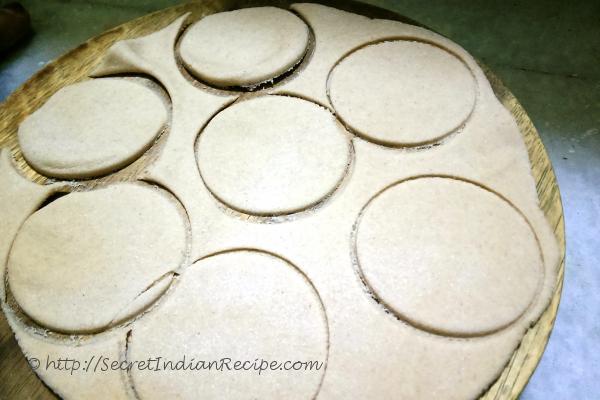 Ingredients:
( For Dal Pharah)
Atta (Wheat Flour) – 1 cup
Toor Dal (Split pigeon pea) – 1 cup
Turmeric Powder – ½ teaspoon
Salt – to taste
Mustard oil – 1 teaspoon
Red chili – 2 whole
Garlic – 3-4 pods
Hing (Asafoetida) – a pinch
Ghee – 2 tablespoons
(For Chokha)
Boiled Potatoes – 3-4
Salt – to taste
Mustard oil – 2 tablespoons
Green chilies – 2-3 chopped
Green Coriander leaves – few chopped
Green garlic or garlic pods – 2 crushed.
Onion – 1 small (chopped finely)
Directions:
To make dal pharah, begin with first cooking the dal. For this wash and then pressure cook the dal with turmeric powder, salt, mustard oil and 2 cups of water for upto two whistles. The dal should be cooked but not mushy.
Take wheat flour in a wide bowl. Add required quantity of water and make a semisoft dough.
Take a small ball sized portion from the dough and roll it into a 1mm thick chappati. Now take a small glass or bowl and cut small rounds from the chappati….as shown in the picture.
Take each round and then fold it into flowers by joining four sides into a middle point. You can make rose by first bringing two sides together at a point and then reversing the other two sides and then joining at a point.
Once all the flowers are made. Check if the dal is done. Switch on the gas and put the pressure cooker on flame again. Add two cups of water and let it boil. Once it starts boiling, add the wheat flowers and cook for about 10 mintues.
Check the seasoning and also if it requires more water. It tends to become dense once cooled so keep sufficient water in the dal.
When you are being able to mash the wheat flowers easily with your fingers, switch off the gas.
Prepare for seasoning by heating ghee in a small pan. Add chopped garlic and let it brown a bit, add hing and broken chilies and then pour it into the dal pharah.
For Chokha
Mash the boiled potatoes when they are still hot as they tend to solidify when cooled. Add salt, mustard oil, chopped chilies, coriander leaves and chopped onions. Mix well and serve with hot dal pharah.
Footnotes:
For Chokha, mash the potatoes when they are still hot.