Dal Tikki (yellow Lentil Tikki)
Dal tikki is a vegetarian snack of Uttar Pradesh. I have made it with rahar dal (yellow lentil) but it can be made with any dal, red dal or Bengal gram dal. In fact in Uttar Pradesh, it is made from broken dal or dal residues. Uttar Pradesh is known for dal (pulses) cultivation. After polishing the dal, some residues and broken dal is left and it is this leftover dal, which is used to make dal tikki.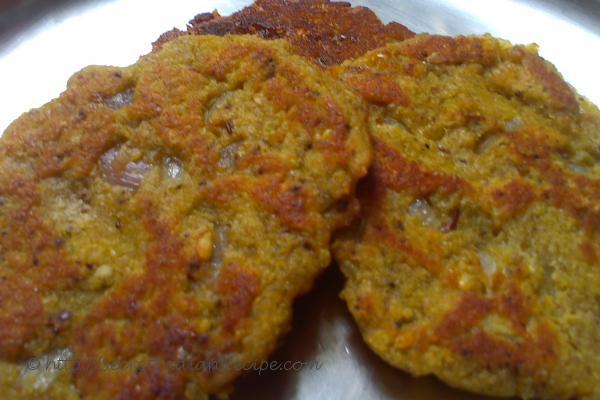 Ingredients:
Rahar dal (yellow lentil) – 1 cup
Garlic cloves – 7-8 cloves
Green chilli – 5-6 pieces
Onion – 1 piece (finely chopped)
Mustard oil – 4-5 pieces
Salt - 1/4 tablespoon
Directions:
Soak the rahar dal in water for at least 4 hours.
Grind rahar dal, garlic and green chilli together. Please note it should not be too watery.
Add salt and chopped onions and mix well.
Put a tava on the gas and pour ½ tablespoon of oil. Take spoon full of batter and pour it over the tava. Spread it a little and cook it over medium heat till one side turns brown.
Flip the tikki and cook the other side. Follow the procedures to get more tikkis.
Serve hot with coriander chutney.