Dalma (odia Tarakari)
Dalma is a traditional dish of Odisha. It is a dal (lentil) preparation mixed with vegetables like raw papaya, raw banana and many more seasonal veggies depending upon taste and availability. It is also cooked for lunch as well as for dinner. It is usually served with rice, parathas or puris. It is one of the favorite dishes of Lord Jagannath, Odisha. It's a part of Maha Prasad. It's a delicacy of the poor and rich and solace to mothers to feed their kids vegetable in the guise of dalma. Dalma is served as a side dish as well as a main dish.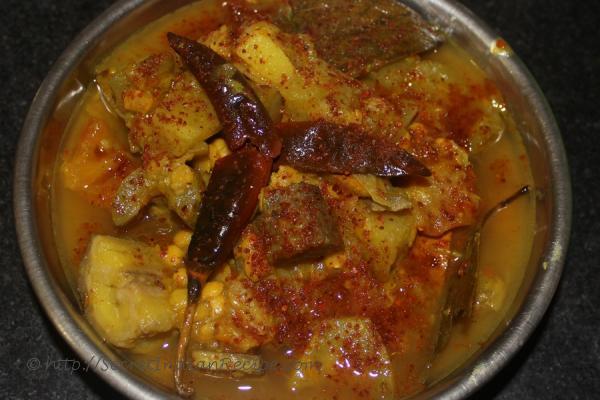 Ingredients:
Toor dal (Arhar Dal) 1 cup
Channa dal ½ cup
Pumpkin 250 gm
Potato 1 medium size
Arvi 50gm
Yam 50gm
Indian beans 50gm
1 raw banana
Tomatoes 2 to 3
Fresh grated coconuts 2 tbsp
Dry red chilies 4 nos
Grated ginger 1 tbsp
Cumin seed 2 tsp
Red chili powder 1 tsp
Turmeric powder 1 tsp
Cow ghee 1 tbsp
Bay leaves 2 nos
Hing 1 small pinch
Salt to taste
Directions:
Roast 1 tsp cumin seed and 2 dry red chilies and fry it till gets brown. Make powder of it and keep aside.
Soak toor dal and channa dal for 20 min.
In a pressure cooker add 4 cups of water, soaked dal and pieces of chopped vegetables except tomato.
Add turmeric powder, salt and bay leaves to it.
Close the lid and cook it for 1 whistle.
Heat cow ghee in a pan, splutter 1 tsp cumin and red chili. Add hing, grated ginger and fry it.
Add tomatoes, salt, chili power to it.
After tomatoes gets soften add it to the cooked dal and vegetables.
Boil it for 5 min
Pour it in the serving bowl and garnish it with grated coconuts and roasted cumin and dry chili powder which were prepared earlier.
Serve hot with Rice or Parathas.