Damni Dhokla
#RegionalUnknownRecipe
Damani Dhokla is a Gujarati traditional bygone recipe. It belongs to Valsad and villages in its vicinity in the South Gujarat region.
Its an ancesteral recipe inherited by the locals from their from their 3rd or 4th generation predecessors.
Much as it is rich in tradition, its rich in nutrition and health as it contains cereals, pulses , dals , vegetables, jaggery (iron). All things heathy are not bad in taste. The aroma of Banyan Tree leaves wrapped in which it is steam cooked is the evidence of its taste.
Having rich in nutrition, it can be considered as complete meal and can be savoured in case you have skipped lunch or dinner.
#RegionalUnknownRecipe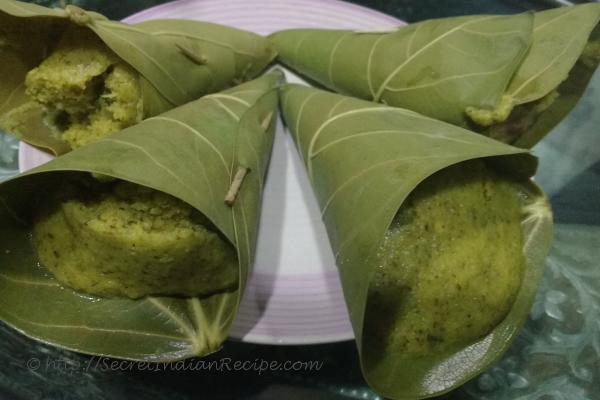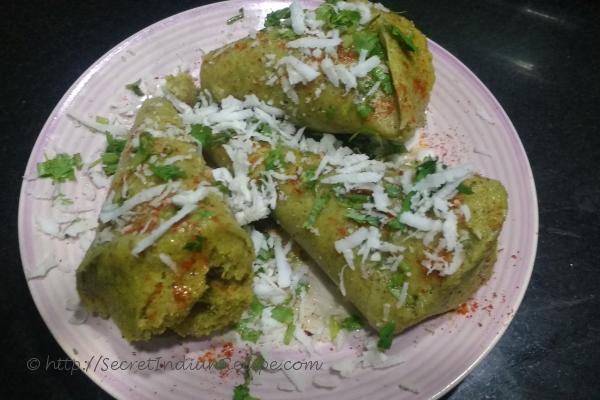 Preparation Time:
7-8 hours (for fermentation)
Ingredients:
250 gms Rice (Kanki)
100 gms Bajri (pearl Millet)
100 gms Mung Dal (yellow lentil)
100 gms Chana Dal ( split bengal gram)
100 gms Tuvar Dar ( pigeon pea)
50 gms Urad Dal ( polished black lentil)
2 tbsp Curd
4 tbsp Oil
3 tbsp Desi chana( Whole Bengal gram)(soaked, boiled)
1 tbsp Ginger paste
1 tbsp Green chilli paste
2 tbsp Jaggery
1/8 tsp Turmeric powder
1/2 tsp Sesame seeds
1 tsp Coriander leaves
Salt as per taste
Leaf of Banayan Tree
Oil (for tadka)
Mustard seeds
Asofoetida
Sesame seeds
Red chilli powder
Grated Coconut
Coriander leaves
Directions:
Mix Rice, bajri, mung dal, chana dal, tuvar dal, urad dal together and grind them to form a coarse flour.
Add curd, oil to the flour and prepare a thick batter with warm water and let it stay for fermentation for 7 to 9 hours.
Add chana, ginger, green chilli, jaggery, turmeric powder, sesame seeds, coriander leaves and salt to 2 cup of fermented batter.
Prepare a cone of the leaf of banayan tree. Fill mixture of batter in the cone. Steam it for 20-30 minutes. Let it cool.
Make tadka of oil, mustard seeds, asofoetida and sesame seeds. Garnish with red chilli powder, grated coconut and coriander leaves.