Delicious - Nutritious Wheat Bite
I love to make this recipe because it's easy to make and it's nutritious ...
It's my Mom's Recipe.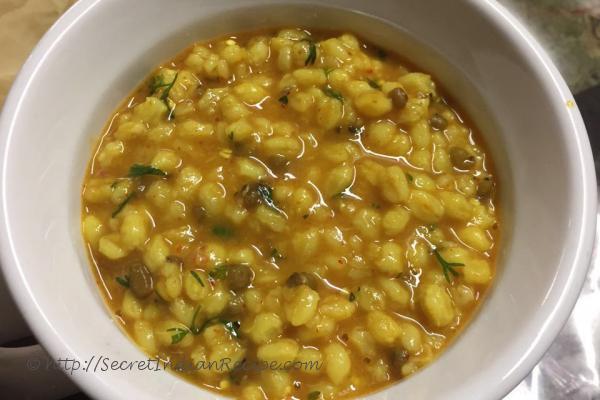 Ingredients:
1/2 cup polished Wheat ( Chadela ghau ) soaked overnight
1/2 cup Green Moong ( Whole green gram) - Soaked overnight
2 tsp Oil
Pinch of hing ( Asafeotida )
Salt to taste
1/4 tsp Chilli powder (3 M post surgery)
1/4 tsp Turmeric powder
1/2 tsp dhania jeera powder ( Coriander and cumin)
Chopped coriander leaves - for garnishing
Directions:
Pressure cook wheat and moong separately till very tender.
In a pan temper hing in oil. Add coriander cumin powder, red chilli powder and turmeric powder. saute on low flame till the raw smell goes. this will take few seconds only.
Add wheat and cooked moong and the salt. Add 1 cup water to avoid sticking to pan andad bring it to boil. cook for 2 mintues. Garnish with coriander leaves.
Serve hot as a complete meal. Can be eaten with thick curds.