Dhaba Style Egg Curry
Egg curry is a dish that usually has many variations. This one is my invention. It is easy yet tasty. Everyone in my family love and adore it. It can be enjoyed with hot Rotis or Rice,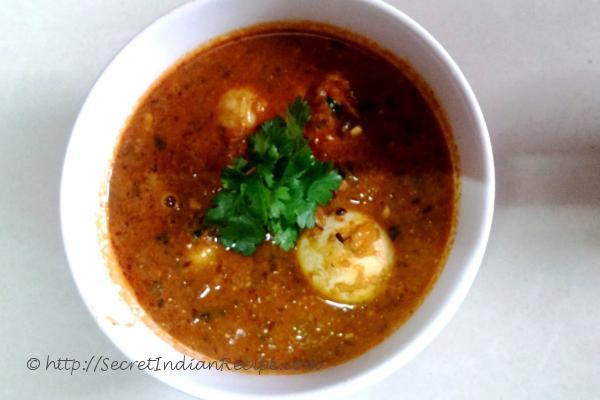 Ingredients:
Egg: 6
Tomato: 2 big (grated)
Onion: 2 big (finely chopped)
Coriander leaves: 1 cup (Finely chopped)
Green Chili: 3-4
Garlic: 6-7 cloves
Ginger: ½ inch
Red Chili Powder: 2 tsp
Turmeric Powder: 1 tsp
Coriander Powder: 2 tsp
Cumin Seeds: 1 tsp
Cardamom (small): 3-4 each
Cloves: 3-4
Cinnamon: 1 inch
Oil: 5-6 table spoon
Cashew Nut: 5-6
Salt to taste
Directions:
Boil the eggs, remove the shells and keep them aside.
Make a paste of ginger, garlic and coriander (1/2 cup) and keep aside.
Heat a large pan and add some oil to it. Add some cumin seeds to the oil when it turns hot. Add onions and fry till it turns pink.
Make a coarse powder of the cardamom, cloves and cinnamon. Add it to the onion when it has turned pink. Add the ginger garlic paste and the grated tomato to it. Mix well.
Now, add red chili powder, coriander powder, turmeric powder and salt to it and mix again. Fry the mixture till it turns brown and the sauce thickens. Make sure that the raw smell goes away and you see oil at the edge of the pan.
Add water as needed to make the gravy. Cook until the gravy thickens. Cut the boiled eggs into two and add it to the gravy. Mix well.
Boil the cashews in water and grind it into a paste. Add the cashew paste to the egg curry and mix well. Cook it for 2-3 minutes.
Sprinkle chopped coriander leaves. Serve hot with rotis or rice.
Other Indian Recipes that you may Like !