Dhabhe Da Kheema (minced Meat Cooked In Dhabha Style)
Dhabhe da style of Kheema is the typical way its cooked in road side cafes on the highways in India. It is a merciless curry with dollops of butter, milk and oil oozing all over but that is exactly what gives this curry it's flavours. It would taste heavenly with mutton kheema but since the fat content is already high with the butter and oil I often make it with chicken kheema. Since we had some guests I also added some potatoes which otherwise is not required for this curry. We served it with pooris and this was actually a breakfast for the guests.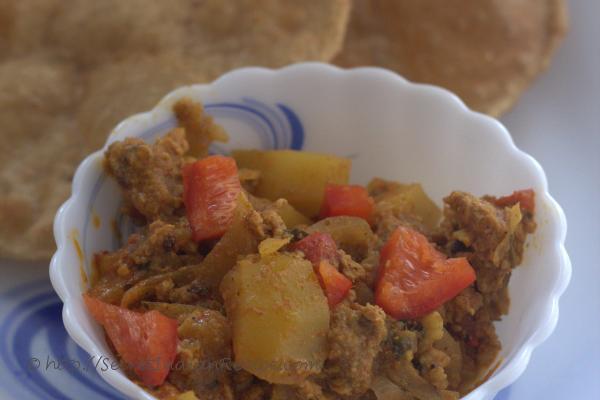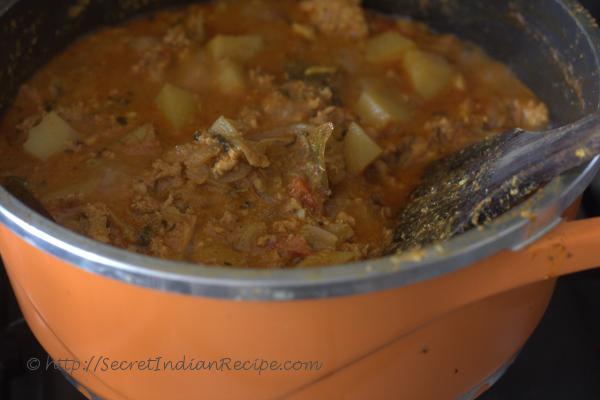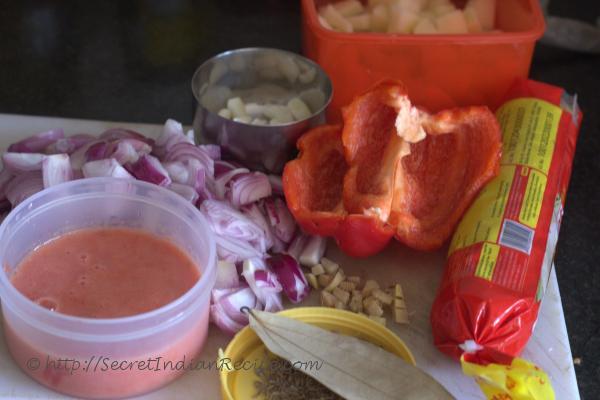 Ingredients:
Chicken minced meat- 300 g
Onions- 2
Ginger garlic paste- 2 tsp
Green Chilies- 4
Potatoes- 2 large ones
Bell pepper- 1
Tomato puree- 1 cup
Bay leaf- 2
Cloves- 3
Cumin seeds- 1 tsp
Cinnamon- 1 inch long piece
Chili powder- 1 tsp
Coriander powder- 1 tbsp
Cardamom- 2
Turmeric powder- 1/2 tsp
Cumin powder- 2 tsp
Milk- 1/2 cup
Kasoori methi- a pinch
Asafoetida- a pinch
Butter- 4 tsp
Oil- 2 tsp
Lemon- 1
Salt- to taste
Chopped coriander leaves- 1/4 cup
Directions:
Heat oil in a pan and saute the whole spices. Add the cumin seeds after the spices are roasted.
To the spices add chopped onions and green chilies. Saute till the onions are translucent and add the minced ginger garlic paste.
When the ginger-garlic paste browns, add the turmeric, chili, cumin, coriander and asafoetida powders. Saute till the raw smell of the spices abates.
Add 2 tsp butter and tomato puree to the spice powders and saute for 2-3 minutes before adding the minced meat and potatoes.
Add milk, salt and cover and cook till the potatoes are well cooked. Once the potatoes have cooked add kasoori methi and cook the kheema till it is semi dry.
Add the sliced bell peppers and cook the kheema for 2 minutes. The bell peppers need not cook completely.
Squeeze half a lemon and add the remaining butter and top the kheema with some chopped coriander. Serve with rice, rotis or pooris.
Other Indian Recipes that you may Like !