Dhirdi - Indian Spicy Mix Flour Pancake
Dhirdi is a very easy to make and quick recipe. If you are hungry and do not want to munch on snacks. this is the best dish. It is also the best substitute for your regular dal and rice.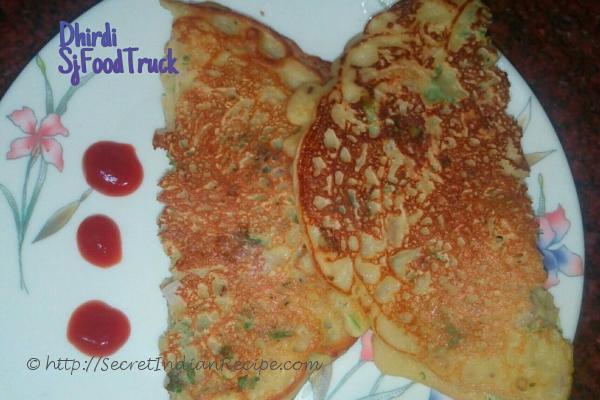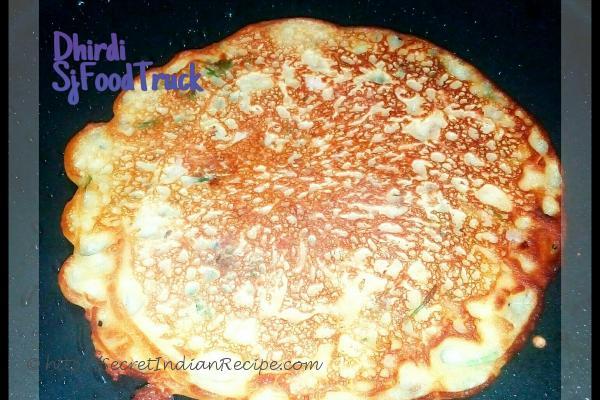 Ingredients:
1 cup Rice floor
½ cup Chickpea flour (Besan)
2 tbsp Wheat Flour (Gehu atta)
2 Green Chilies finely cut
2tbs Coriander leaves finely chopped
2tspn Cumin
Salt to taste
Oil - 1 table spoon
Water as required
Directions:
1) Take one bowl. Mix all the flour in the bowl along with chillies, coriander, cumin and salt. Add water . The consistency should be like Dosa batter.
2) Keep aside for 15 minutes.
3) Heat non stick dosa tava on medium flame. Put a little oil and spread it. Take dhirdi batter and pour on the tawa.
4) You can spread this batter with one big spoon for once or medium size spoon for twice.
5) Put the lid on the tawa and let the dhirdi cook properly from one side. Remove the lid and flip the dhirdi to the other side.
6) Press the Dhirdi slightly with spatula from the other side. Let it cook for one minute. Dhirdi is ready.
7) Serve hot with tomato sauce.