Dhoka Dalna ( Bengal Gram Cakes In Curry)
Dhoka dalna is a traditional Bengali recipe cooked and served in puja(eve) or as a second course of meal. I learnt to make this recipe from my mother-in-law when I got married 3 years ago. Its a traditional Bengali dish which will serve best with hot rice. Try it once and let me know about it from your word of mouth.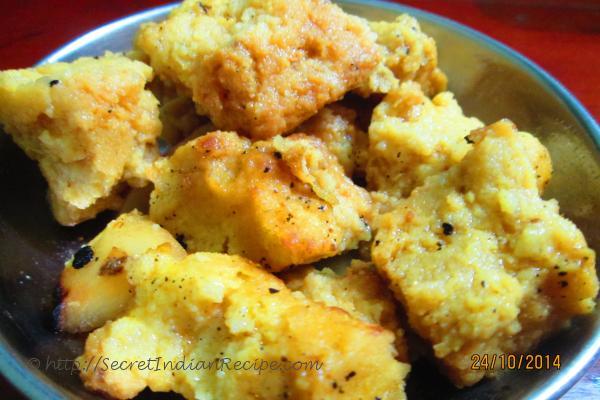 Ingredients:
Bengal gram - 1 cup
Tomatoes - 2 ( medium sized)
Ginger (grated) - 1 tsp
Green chillies - 2
Cumin seeds - 1 tsp
Coriander powder - 1 tsp
Cumin seeds powder -1 tsp
Asafoetida - a pinch
Turmeric powder - 1/2 tsp
Chilli powder - 1 tsp
Garam masala (blend of spices) - 1/2 tsp
Ghee ( clarified butter ) - 1/2 tsp
Oil - 2-3 tbsp
Salt - as per taste.
Directions:
Wash and soak Bengal Gram in water for 4-6 hours. Drain water and grind the gram to a paste.
Heat 1 tbsp oil in a pan and add cumin seeds, asafoetida, ginger paste, turmeric powder and salt.
Add the grounded paste and cook till the mixture is soft and sticky but not completely dry.
Smear little oil in a dish. Pour the cooked dal and spread it evenly on the dish. Press lightly with a spatula to set it. Allow it to cool and cut into square or diamond shapes.
Again heat oil in a pan and fry the dhokas to light brown. keep them aside.
To make tomato puree,grind tomatoes, ginger, green chillies, turmeric powder, red chilli powder,coriander powder, cumin seeds powder and keep aside.
Heat oil in a deep, heavy bottomed pan and add remaining cumin seeds, tomato puree and saute.
When the puree starts to dry add 2 cups of water and salt according to taste. Simmer for 4-5 minutes.
Add the fried dhokas and bring the curry to a boil. Lower the flame and cook till the dhokas start to soak up the part of the curry.
Add some ghee and garam masala to the curry. Turn off the flame. Dhoka dalna is ready to serve hot.