Dhokar Dalna (fried Lentil Cakes In Bengali Curry)
Dhokar Dalna is a traditional satvik Bengali dish that has no onion and garlic and is made from Chana dal koftas or lentil cakes soaked in delicious Bengali style curry. The Dhokar means cheating and the lentil cakes soaked in curry gives you a taste as close to a meat curry. The dalna is the Bengali curry, made from tomatoes and yogurt. The Chana dal is soaked overnight , ground to a fine paste, steamed/fried and deep fried. This dish required some preparation and time but the reward you get is simply worth the effort. In fact the lentil cakes themselves can serve as a perfect evening snack and eaten alone. This is my recipe of this traditional dish and I have tried to make this in a simple and easy way.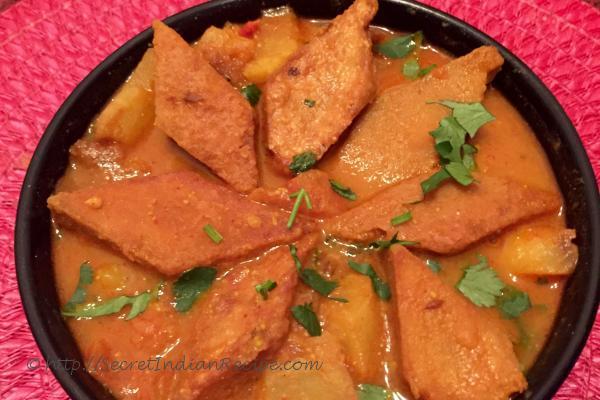 Ingredients:
1 and 1/2 cup Chana dal (Bengal gram) soaked overnight
1 knob Ginger
6 Green Chillies
Salt as per taste
2.5 tsp Coriander seeds
2.5 tsp Cumin seeds
1 tsp Fennel seeds
1 cup chopped Tomatoes
1 cup chopped Potatoes, cut in cubes (optional)
2 tbsp Yogurt
1 tsp Kashmiri Mirch powder
1/2 tsp Cayenne powder
1 tsp Turmeric powder
1/2 tsp Garam masala powder
1 Bay leaf
1 tsp Cumin seeds
Dash of Hing or Asafoetida
3 tbsp Oil
1 tsp freshly grated/chopped Ginger
Oil to deep fry
1 tbsp chopped Coriander to garnish
Directions:
Step 1 : Preparing the lentil cake batter •Wash and drain the soaked chana dal and grind it with ginger, salt and green chillies with very little water. Make sure that you grind it well. •Dry roast the coriander seeds, cumin seeds and fennel seeds and grind them into a fine powder in a dry mixer/blender. Keep it aside.
Step 2 : Steaming the lentil batter •Fill your rice cooker or steaming cooker with water and bring it to a boil with a lid covered. This might take 15 minutes. •In the meantime grease the steamer pan and pour the lentil batter into it. Once the water starts boiling, put the steamer pan into the cooker and cover it with a lid. Make sure that the lid is correctly placed and the steam does not escape from the sides. •Steam on high heat for 15-20 minutes or till it's firm and cooked. Check by inserting a skewer into the cooked mixture and if it comes out clean, then it is cooked. Remove, cool a little and cut into one-inch cubes or into diamonds.
Step 3 : Fry the lentil dumplings and potatoes for the curry •Heat oil in a kadai and deep fry the lentil cakes till light golden. Drain on a clean absorbent kitchen towel or paper and keep aside. •Drain and pat dry the potato roundels. Heat 3 tbsp oil in a pan and add the chopped potatoes. Cover it with a lid and allow it to cook for 15-20 minutes on a low flame. •Meanwhile, take 2 tbsp thick yogurt separately in a bowl and mix turmeric, chilli powder and roasted ground powder of coriander, cumin and fennel powder made in the step 1.
Step 4 : Preparing the main curry •Take out the fried potatoes on clean absorbent kitchen towel and keep it aside. Now add bay leaf, cumin seeds and hing in the same oil. •When the cumin seeds stop to crackle, add the freshly chopped/grated ginger. Saute for 2 minutes so that the raw smell of the ginger goes away. •Lower the flame and add the yogurt paste. Saute for 5-6 minutes till you see sparks of oil. You may add a little water to prevent the masala sticking to the pan. •Add the chopped tomatoes and the cooked potatoes. If your fried potatoes are fully baked, then add the potatoes later or if it is al dente, then add it now and allow it to cook along with the tomatoes. Add salt as per your taste. •When the tomatoes are mushy, increase the heat to medium and add water( 2- 2.5 cups). Bring the curry to a boil. •Add fried chana dal pieces, reduce heat and simmer for five minutes. Then add garam masala and serve it hot garnished with chopped fresh coriander leaves.