Dhokla
Dhokla is a savory steamed cake using gram flour. It is a traditional recipe from state of Gujraat. #ChaiFingerFood Contest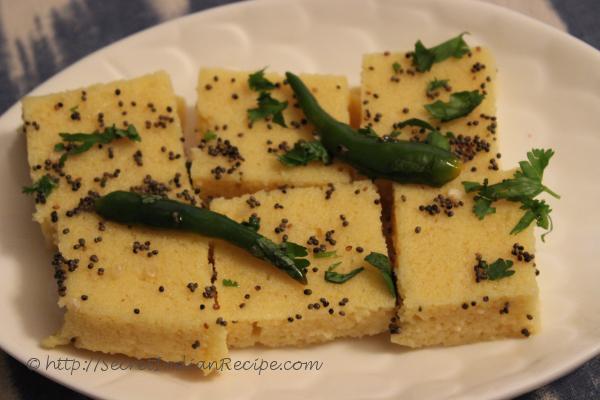 Ingredients:
Besan/Gram Flour - 1⁄2 Cup
Sooji (Semolina) – 1 tbsp
Turmeric Powder – ¼ tsp (optional)
Yogurt – 1/4 cup
Salt – to taste
Grated Ginger – 1 tsp
Oil – 3 tbsp
Lemon Juice – ½ tbsp
Eno Fruit Salt – 3/4 tsp
Coriander Leaves – 2 tbsp (Finely chopped)
Green Chillies – 3 slit
Mustard Seeds – 1 tsp
Grated coconut – 2 tbsp (optional, although I have not used)
Water - 1⁄2 Cup, mixed with 1 tbsp sugar and 1 1/2 tsp lemon juice
Curry Leaves – 4-5
Directions:
Take gram flour and semolina in a bowl. Add yogurt and warm water and mix. Avoid lumps. Add salt and mix again. Make a pouring consistency batter. Leave it aside to ferment for 20-30 mins.
When gram flour and semolina mixture has fermented, add turmeric powder and grated ginger.
Heat the steamer. Grease a thali. In a small bowl take lemon juice, eno fruit salt, 1 tsp of oil and mix. Add it to the batter and whisk briskly
Pour batter into the greased thali and place it in the steamer. Cover with the lid and steam for 10 mins. When a little cool, cut into squares and keep in a serving bowl/plate.
Heat remaining oil in a small pan. Add mustard seeds. When the seeds begin to crackle add curry leaves, green chillies and ½ cup of water (mixed with 1 tbsp sugar and 1 1/2 tsp lemon juice). Let it boil for 2-3 mins. Remove it and pour over
Garnish the dhokla with coconut and chopped coriander leaves
If you want to make dhokla in the microwave – Take a microwave dish and line it with little oil. Pour the mixture into the dish. Cover it and microwave on high for 3 mins. After 3 mins, your dhokla will be ready.