Dhokla (steamed Gram Flour Snack From Gujrat)
Dhokla is a vegetarian snack from Gujrat. It tastes a little sweet and salty. Traditionally Dhokla is made by fermenting the besan batter overnight, but here I am sharing a different method, which does not require long hours of fermentation. The trick is done by adding ENO.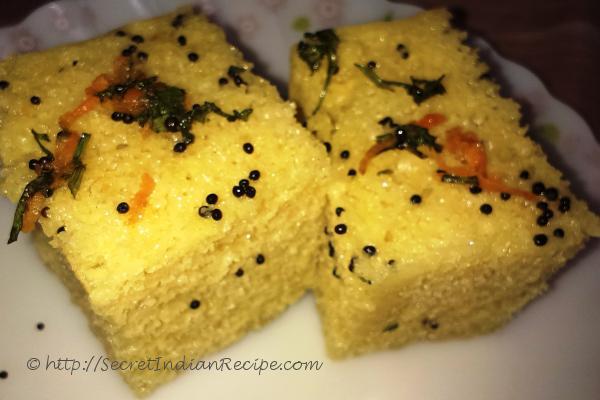 Ingredients:
Besan (Gram flour) – 1 cups
Sooji (Semolina)– 2 tablespoon
Turmeric Powder– a pinch
Salt – as per your taste
Sugar – 1/2 tablespoon
Ginger and Green chilli paste –1 tablespoon
Lemon Juice – 2 tablespoon
Eno salt – ¾ tablespoon
For tempering
Oil – 2 tablespoon
Rai (Black Mustard seeds) – ½ tablespoon
Whole Green chilli – 2-3 split from the middle.
Curry Leaves – 10-12 leaves
Directions:
Take a large bowl and mix besan, sooji, salt, sugar, green chilli paste and ginger paste. Add required amount of water and make a thick batter. Whisk the batter with a spoon or with a beater for 5-6 mintues (My secret of making soft dhoklas).
Now put a thick bottom vessel on the gas stove. Place a stand in the middle and pour water for steaming. The head of the stand should be above the water level. Switch on the gas and let the water boil.
In the meantime grease a wide plate (The plate will be placed on the stand inside the vessel, so choose the size accordingly).
Now add the ENO salt in the besan batter and mix slowly. Add ½ cup of water. Once the bubbles are visible, pour this on the greased plate.
Place the plate containing besan batter inside the vessel and on the head of the stand. Cover the vessel with a lid and allow it to steam for 20-25 mintues. You can also use an Idly steamer to make dhoklas.
After 20 mintues, take a knife and pierce it through the dhoklas. If it comes out clean then your dhoklas are done. Switch off the gas and take the plate out. Cut the dhoklas in square or diamond shape.
For tempering, heat oil in a pan. Add rai, green chilli and curry leaves. Once it splutters, pour it over the dhoklas. Serve with tamarind chutney.