Dhokli Nu Shaak ( Chickpea Cake Curry)
Its a Gujarati Kathiawari dish, ususaly made by jains in Paryushan (Jain festival).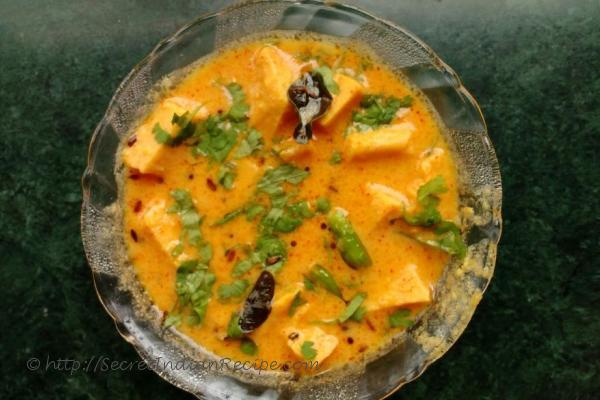 Ingredients:
|| Ingredients for Dhokli ||
Chickpeas flour (Besan) - 1 cup
Buttermilk – 2 cups
Red chilli powder - 1 tsp
Turmeric powder – 2 pinch
Asafoetida (hing) – 1 pinch
Salt to taste
|| Ingredients for Gravy ||
Oil - 1 tbsp
Green chillies – 4 pieces (cut vertically)
Besan ( Gram flour)– 1tbsp
Hing ( Asafoetide) a pinch
Black Mustard seeds - 1/2 tsp
Cumin seeds- 1/4 tsp
Red chili powder – 1 tsp
Sour Buttermilk 2 cup
Turmeric powder 2 pinch
Curry leaves – 6-7
Salt to taste
Directions:
How to make the Dhokli In a bowl, take 2 cups buttermilk, add besan and stir it well to a smooth consistency. Add salt, chilli powder, turmeric powder and hing to this batter and mix it well.
Pour the batter in greased cooker vessel and spread it around. Put this vessel in a pressure cooker and let it cook till 3 whistles.
Once pressure cooker cools, remove the lid and take out the cooker vessel. Cut the dhokli into squares. Keep aside.
How to make the gravy. Heat a non stick pan, add oil. Add black mustard seeds, cumin seeds, green chilies, hing, Saute well.
Then in sour buttermilk, add besan and salt and mix it well. Pour this mixture in pan.
Add red chilli powder and turmeric and bring the mixture to boil.
After 5 mins, add dhokli squares and again let it boil for few mins.
The consistency of the gravy should be medium, the dhokli absorbs the gravy after cooling so normally it is served right away.
Garnish it well with coriander leaves. And best served with hot chapatis.
Footnotes:
Dhokli batter is cooked in pressure cooker because you dont have to keep on stir the mixture.