Dhosa Takatak
Fast food version of Dosa.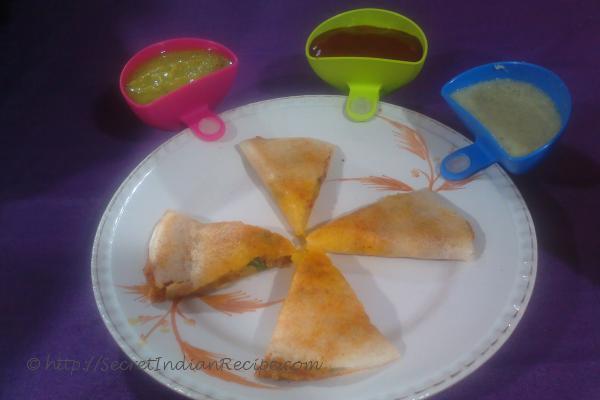 Ingredients:
500gms Dosa batter
1 cup aloo sukhibhaji
1 onion finely chopped
1 tomato finely chopped
3 tbsp butter
1 tsp chat masala
2 tbsp chopped coriander leaves
For spread:
1 cup roasted chana
6-7 garlic
3-4 dried red chilli
1 lemon juice
Directions:
For spread: Make fine powder from roasted channa,chilli and garlic .then add lemon juice and water and make paste.
Now put 1 big spoonful of dosa better on nonstick tava and spread to make thick dosa.
While the dosa is being cooked, sprinkle little oil over the top and spread a layer of prepared channa - garlic paste evenly.
On the top of channa garlic layer put some sukhi aloo bhaji, onion, tomato, butter,chat masala and coriander leaves . .
Carefully smash with bhaji smasher evenly. Now fold the dosa into a semi circle and take it out on a plate. Cut into triangular pieces and serve hot with any chutney, ketchup, sauce