Diet Khichadi (brown Rice Cooked With Green Mung Beans & Vegetables)
This is my family's favourite comfort food. It's a one pot complete meal giving you proteins from the beans and vitamins from vegetables as well as the complex carbs needed from the brown rice. You can cook this with white rice and your choice of vegetables. This is a good recipe if you are watching your calories. Its Gluten and Diary free too ! I like to serve it with simple cucumber , tomato and onion salad , roasted poppadom and pickle. Here's how you make it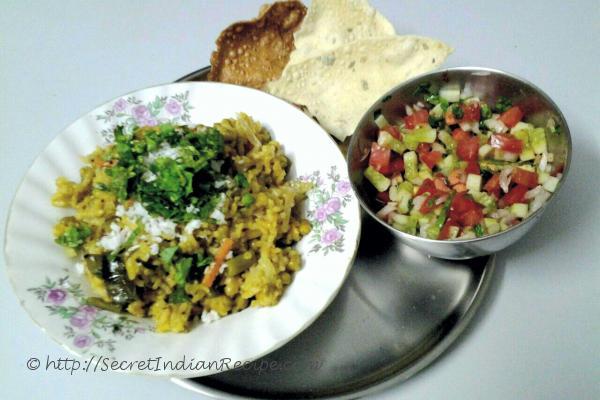 Ingredients:
Pre-soaked Green Mung Beans 1/2 cup
Brown Rice 1 cup
Carrot 1
Onion 1
French Beans 7/8
Pre-soaked Peanuts 1/4 cup
Curry Leaves 5/10
Mustard Seeds 1 teaspoon
Cumin Seeds 1 teaspoon
Turmeric powder 1 teaspoon
Red Chilli powder 2 teaspoon
Maharashtrian Goda Masala 1 teaspoon
Coriander & cumin seed powder 1 1/2 teaspoon
Extra virgin olive oil 2 tablespoon ( or any other cooking oil)
Asafoetida 1 pinch
Coriander leaves & freshly desiccated coconut for garnish
Directions:
Wash and drain the brown rice , pre-soaked mung beans.
Cut all vegetable in in small cubes.
In the heavy bottom pan heat the oil and add mustard seeds and let it splutter then add cumin seeds , asafoetida , curry leaves and turmeric powder.
After this add chopped onions and let them softened a bit. Then add all other vegetables peanuts, rice and mung beans.
Saute all for 5 min on medium heat and add red chilli powder , Maharashtrian goda masala , coriander & cumin seed powder and saute for further 2 mins,
Now add 3 cups water and salt as per your taste and let it cook on medium low heat with lid on for 10 mins or until the rice and vegetables are cooked. Brown rice take a little longer to cook than the white rice so the cooking time can vary.
Garnish with coriander leaves and freshly desiccated coconut.
Footnotes:
You can choose any vegetables of your choice. Add a little ghee before serving.