Diet Platter
This unique recipe is a blend of all the nutritious ingredient that is necessary by our body. Anyone who skipped lunch or dinner may conveniently opt to this recipe,which is tasty and absolutely healthy. #IndianDietRecipe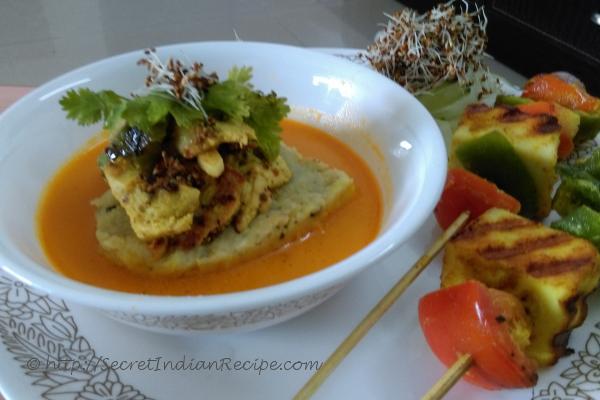 Ingredients:
FOR PASTE: (TO GRIND)
Carrot - 1 no. chopped
Coconut (Scrape) - 1 cup
Tomato - 1 no chopped
Coriander leaves - 2 tbs chopped
Garlic - 5 cloves chopped
FOR SOUP:
Basil leaf dried - 1 tsp
Butter - 1tsp
Oil - 1 tsp
Garlic Chopped - 1 tsp
Green Chilli chopped - 1 no
Lemon Grass dried - 1 tbsp
Salt to taste Pepper
FOR AVOCADO VARTA:
Basil leaves - 1 tsp dried
Avocado - 1/2 pulp mashed
Boiled Potato - 1 nos mashed
Milk - 1/2 cup
Pepper - 1/2 tsp
Salt to taste
butter - 1 tbsp
GRILLED PANEER:-
Olive Oil - 2 tbsp
Paneer - 50 gm cut in cubes
Skewer - 2 nos
Capsicum - 1 no (small)
Tomato - 1 no
Salt to taste
Curd - 1 tbsp
Chat Masala - 1 tsp
Onion-garlic-ginger paste - 1tsp
FOR CHICKEN:-
Turmeric - 1 tsp
Boneless Chicken - 200 gm
Parsley leaf - 1 tsp
salt to taste
Curd - 1 tbsp
Chopped Garlic - 5 cloves
Chopped green chilli - 1no.
Butter - 1 tsp
Onion-garlic-ginger paste - 1 tbsp
for salad - Alfa Alfa spout and cucumber
Olive oil- 1tbsp
Directions:
FOR SOUP: Take coconut, carrot, tomato and all the above ( grinding ingredients) and make a fine paste. Heat a karai with little olive oil and butter. Put chopped garlic, stir it, cook it for 2 minutes. Add one cup of water, lemon grass, salt, sugar, chilli, pepper and gently cook for 5 minutes. Further, add coconut mixed paste, allow it to simmer, cover it for 5 minutes. Stain this mixture, stir in lime juice, check the seasoning and ready to serve.
FOT AVOCADO VARTA: Heat the butter, then add mashed potato and avocado, salt, pepper. Mix well and cook for 2 minutes. Then add milk and turn a few times till well blended. Add basil leaf, mix properly.
FOR GRILLED PANEER: Chop the paneer in square shaped cubes. The veggies also should be chopped in square shape. In a bowl, take the curd and whisk it till it becomes smooth. Add onion ginger paste and all the spice powder including salt. Mix the spice with the curd and 1 tbsp oil. Add veggies and paneer, marinate for at least 15 minutes. Skewer the veggies and paneer. Alternatively fry the paneer on low heat on a tawa till paneer and veggies are cooked.
FOR CHICKEN: Marinate the chicken with salt, turmeric, onion, ginger garlic paste, curd for about 10 minutes. Heat a karai with olive oil and butter. Add chopped garlic, stir it. Then add marinated chicken, stir it properly. Cover it for 3 minutes. Then add parsley leaves, chilli, kalimirchi and stir it again properly. Cook till chicken turns soft.
Now platter is ready. Assemble it, garnish with cucumber strips and Alfa Alfa sprouts.